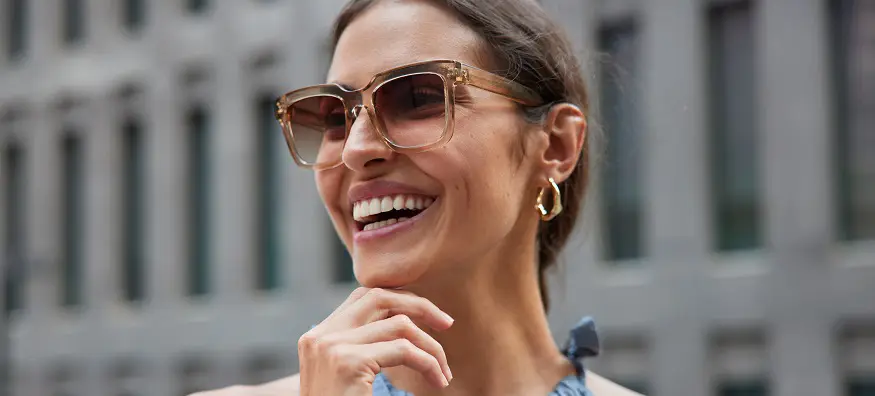 Why are people more attractive with sunglasses?
Our perception of beauty is affected by many things, including symmetry. Vanessa Brown, the senior lecturer at Nottingham Trent University, says that sunglasses give the illusion of symmetry to the face, making us think those wearing them are more attractive. Depending on the frame style and your face shape, the right pair of sunglasses can balance out your proportions and add dimension. Read our guide on face shapes to find out more about what face shape you have and the best fame styles to suit you.
The eyes are the window to the soul
Eye contact with those around us helps to establish connection and trust. Seeing someone's eyes, even if they aren't directly looking at you, helps you to establish judgements and assessments about them even without saying a word. When someone wears sunglasses and hides their eyes, they immediately seem more mysterious, and as a result, more interesting.
Celebrities love sunglasses
Celebrities, both on-screen and off-screen, love to wear sunglasses. In films especially, sunglasses are often part of a character's identity, a recognisable part of their distinctive style. In Top Gun, aviators are the frame of choice, in The Blues Brothers, it is the classic wayfarer that the characters wear. This glamourisation of sunglasses in film and TV has led the public to associate sunglasses with charm, wealth and status. It's no wonder fashion influencers on social media so often choose to wear sunglasses with their looks.
The best sunglasses to make you more attractive
With the huge range of styles now available, it can be difficult to find the right pair of sunglasses to suit you and your personality. Here are some of our favourite sunglasses for adding some charm to your look:
The Ray-Ban RB2140 Original Wayfarer Black 901/58 Polarised sunglasses are a classic, and it's not hard to see why. The square silhouette is flattering on round and heart-shaped faces, but they are versatile enough to work well on a wide variety of people. The black frame is the perfect colour for blending seamlessly with everything you wear.
The FGC Sam C05 Graduated Pink Polarised sunglasses are a fashionable oversized accessory. Available in several colours, the large square frame will create a statement and add symmetry to your face. The gradient lenses are excellent for keeping the sun out of your eyes from above but also allowing you to see clearly as you look down.
The Ray-Ban RB3565 Jack Arista 001/51 sunglasses are a unique shape that still takes inspiration from the classics. This round shape has a flat top edge, for a modern look. The gold outer edge and brown gradient lenses add even more style to this frame. You'll be sure to turn heads in these fashionable shades.
The Polaroid PLD 2074/S/X Gold J5G/UC Polarised sunglasses are a timeless shape that never goes out of style. The teardrop shape of the lens and the joined brow line has taken the hearts of everyone, from celebrities to the general public. This style was once reserved for pilots to help them see clearly and safely when they fly, now it is enjoyed by the fashion elite too.
Choose Feel Good Contacts for affordable sunglasses
For the most affordable designer sunglasses around, Feel Good Contacts are the best choice. With many brands of designer sunglasses to choose from, such as Prada, Ray-Ban, Gucci, and Le Specs, you'll definitely find the right style for you from their vast collection. As if the competitively low prices wasn't enough, you can also benefit from a discount off your first order, all this with super-fast delivery.