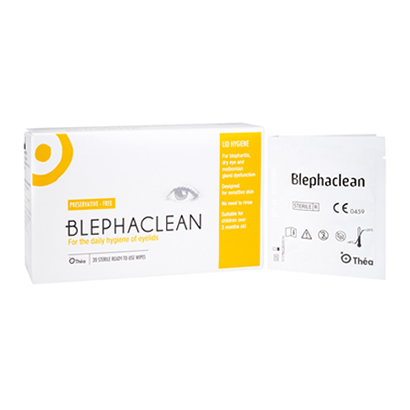 Blephaclean Eye Wipes Benefits & Features
Preservative-free lid wipes
Reduces blepharitis often associated with dry eye disease and meibomian gland dysfunction
Improves ocular symptoms such as crusting along lashes, redness around the lid margins and puffy eyes
Recommended For
The daily hygiene of eyelids
Sensitive skin, eyelids or eyes
Removing dust, pollen and discharge from your eyelids
Blepharitis, Meibomian gland dysfunction, dry eye, styes or chalazion
Product Description
Blephaclean Eye Wipes can be used to maintain the hygiene of your eyelids and treat symptoms of blepharitis (eyelid inflammation) associated with dry eye syndrome and meibomian gland dysfunction. They also improve ocular symptoms by reducing crusting around the eyelashes, redness around the lid margins, puffiness and eyelids stuck together in the mornings.
These wipes are free from detergents and preservatives making them a well-tolerated product, suitable for those with sensitive skin and eyes. They are impregnated with a lotion which features hyaluronic acid (a natural skin moisturising agent) to cleanse the skin and add moisture to the outer layers.
Blephaclean Eye Wipes have been developed by dermatologists and are recommended by ophthalmologists for a multitude of things. If recommended by your doctor or ophthalmologist, they can even be used before and after ophthalmic procedures such as cataract surgery.
Need more optical advice help? Ask our optical experts
Product Details
| | |
| --- | --- |
| Manufacturer | Théa |
| Brand | Théa |
| Ingredients | Capryloyl glycine, Sodium hyaluronate, PEG 8, Poloxamer 184, Polysorbate 20, Propylene glycol, hydrocotyl extract (propylene glycol, Centella asiatica extract and water), Preservative-free Sebum-regulating complex (propylene glycol, Iris florentina root extract, zinc sulphate, PPG-5 Ceteth 20 and Retinyl palmitate (Vitamin A), alcohol and water), PEG 6 caprylic/capric glycerides (i.e. Macrogol 6 glycerol caprylocaprate), Dipotassium phosphate, Sodium hydroxide, Potassium dihydrogen phosphate, Purified water. |
| Pack Size | 20 x lid wipes |
Cautions
Do not use these wipes if you are allergic to any ingredient in this product; or if you are pregnant or breastfeeding, unless advised by your doctor.
For Use
<
Make sure you thoroughly wash and dry your hands before using these wipes. If you wear contact lenses, make sure you remove them first before completing these simple steps.
Tear across the sachet to open and unfold the wipe inside. Do not use any tool to open the sachet.
Wrap the wipe around your index finger and with your eye closed, gently massage the eyelid and base of the lashes with small circular motions.
Gently pull your lower eyelid down and rub along the edge of your lower eyelid.
Repeat this process on the other eye with a new wipe. Rinsing is not required after use.
Do this twice daily, morning and evening or whenever you choose.
See the label at the back of the wipes for full instructions and important safety information.
Frequently Asked Questions
How often should I use Blephaclean Eye Wipes?
You should use Blephaclean Eye Wipes twice a day in the morning and evening for 3 weeks and then once a day for 3 months unless advised otherwise by your doctor.
Can Blephaclean Eye Wipes treat hay fever?
Blephaclean wipes can help to reduce the symptoms of hay fever by removing dust and pollen from your eyelids.
Product Summary
Blephaclean Eye Wipes keep the eyelids clean and contain a gentle micellar solution to treat blepharitis.
In Stock
Estimated Delivery
Tomorrow
Order within
18hrs 42mins

Blephaclean Eye Wipes Reviews
(2)