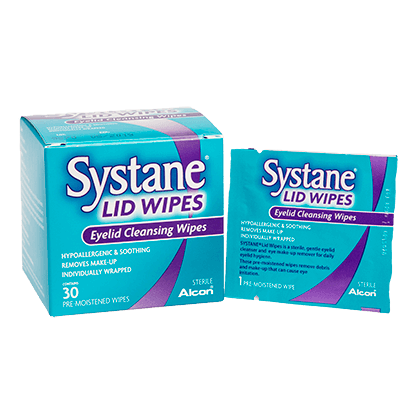 Systane Lid Wipes Benefits & Features
Gently removes debris and eye make-up
Helps prevent eye irritation and infections
Hypoallergenic and soothing
30 sealed sachets in each box
Recommended For
Those with sensitive eyes looking for a gentle eyelid cleanser
As part of your daily eye care regime for daily eyelid hygiene
A handy eye care product that you can take with you on the go
Alternative to Systane Lid Wipes
The Eye Doctor Lid Wipes is an alternative eyelid wipe.
Product Description
Systane Lid Wipes will provide you with daily eyelid hygiene by removing makeup and debris that could cause eye irritation. These moist wipes feature a sterile, gentle formula and are hypoallergenic, making them great for sensitive eyes.
Designed to use on the eyelids and surrounding areas, these wipes offer a soothing clean to get rid of dirt and bacteria, keeping your eyes safe from irritation and possible infection.
Systane Lid Wipes are perfect for taking with you on the go. They feature 30 individual wipes wrapped to ensure ultimate sterility and cleanliness.
For all other eye care products, browse our range at Feel Good Contacts.
Need more optical advice help? Ask our optical experts
Product Details
| | |
| --- | --- |
| Manufacturer | Alcon & Ciba Vision |
| Brand | Systane |
| Ingredients | Aqua, PEG 200 Hydrogenated Glyceryl Palmate, Disodium Laureth Sulfosuccinate, Cocamidopropylamine oxide, PEG 80 Glyceryl Cocoate, Benzyl Alcohol, Disodium EDTA. |
| Pack Size | 30 x lid wipes |
Cautions
For external use only. Do not use these lid wipes if you are allergic to any ingredient in this product.
For Use
Wash and dry your hand thoroughly before you complete these simple steps.
Rub the closed lid wipe to produce a lather before opening.
Close your eye and sweep the lid wipe gently across the eyelid several times.
Repeat the process on the other eye, using a fresh wipe.
Rinse both eyes with warm water and pat dry.
Discard after use.
Frequently Asked Questions
What are Systane Lid Wipes used for?
Systane Lid Wipes is an eyelid wipe used to gently remove dirt, bacteria and makeup from the eyelid and surrounding areas.
How often should you use Systane Lid Wipes?
You should use Systane Lid Wipes daily as part of your eyecare regime.
Product Summary
Systane Lid Wipes is a gentle eyelid cleanser and eye makeup remover for optimal daily eyelid hygiene.