Unravelling Vitelliform Macular Dystrophy: The Best disease Management
Medically reviewed by Tina Patel, Contact Lens Optician at Feel Good Contacts on 09 August 2023.
Vitelliform macular dystrophy, often referred to as "Best disease", is a rare genetic eye disorder that causes injury to the macula. It is the central part of the retina that provides sharp and clear vision. This condition can lead to loss of eyesight, incurring significant challenges to those affected. We will provide a detailed overview of Best disease, including its causes, symptoms, diagnosis, and best treatment options. We aim to provide readers with accessible and reliable information to help them understand this condition better.
What is vitelliform macular dystrophy or Best disease?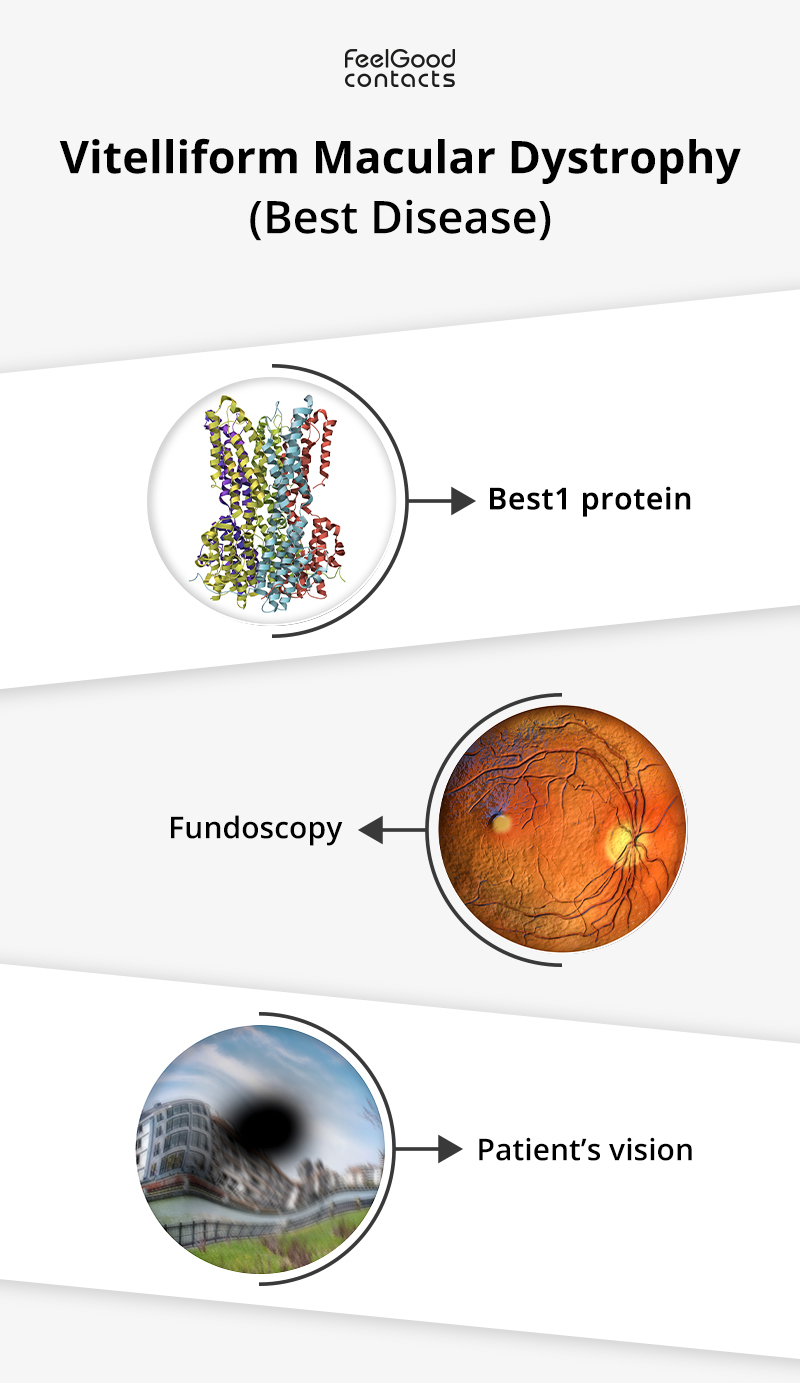 Vitelliform macular dystrophy, is named after Friedrich Best, the German ophthalmologist who first described it in the late 19th century. It affects the macula, resulting in an accumulation of lipofuscin, a fatty substance, within the retinal pigment epithelium. This accumulation causes the appearance of a yellowish structure, vitelliform lesion (Latin term for 'egg-yolk'), which can lead to gradual vision loss and distortion of central vision and consequently impact daily activities like reading, driving, and recognising faces. According to National Organization for Rare Disorders (NORD ), this condition is extremely rare, occurring in approximately 1 in 10,000 to 1 in 50,000 individuals worldwide. The condition often appears in early childhood or adolescence, although in special cases it can also emerge in adulthood.
Symptoms and Diagnosis
People suffering from Best disease often experience a gradual decline in their central vision. The early stages of the condition may not cause noticeable symptoms, but as time advances, patients may develop the following symptoms:
Blurred vision is lack of sharpness or clarity in the perceived images
Central vision problems without affecting peripheral vision means sufferers will experience difficulties seeing central vision clearly and peripheral vision remains unaffected
Metamorphopsia means objects or lines appear deformed, often seen as wavy or irregular instead of straight, as a result of visual distortion
Severe vision loss is reduced eyesight capability leading to vision impairment
Asymmetrical vision or varying levels of vision loss in each eye means uneven visual experience between the two eyes due to different degrees of visual impairment
Please note, the severity and progression of symptoms can vary significantly from person to person.
A proper diagnosis of the Best disease involves an eye care specialist conducting a thorough eye examination in adherence to the patient's medical history. Additionally, the specialist may also require several imaging tests and measurements, including:
Fluorescein angiography - an imaging test that involves the usage of dye to test the functioning of blood vessels
Optical coherence tomography (OCT) - a non-invasive imaging test using reflected light to create detailed pictures of the back of the eye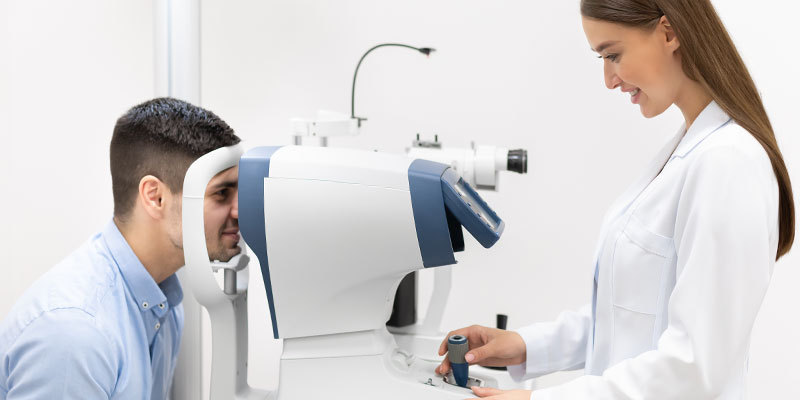 Colour fundus photography (CFP) - an imaging technique used to provides clear visuals of the retina, its related blood vessels, and the optic nerve head
Ophthalmic electrophysiology - a series of eye tests that measure electrical activity in the eyes
Genetic tests – offer valuable information about the patient's genes
The eye care provider may also seek to speak with family members or perform eye examinations on them to gain further insights into this condition and its genetic components.
Causes and Risk Factors
Vitelliform macular dystrophy is primarily caused by mutations in the BEST1 gene, which encodes a protein called Bestrophin-1. This protein plays a crucial role in maintaining the balance of ions and fluid transport in the retinal pigment epithelium, a layer of cells that supports the photoreceptor cells in the retina. When mutations occur in the BEST1 gene, it disrupts the balance, leading to the accumulation of lipofuscin in the macula and causing vision impairment.
This condition follows an autosomal dominant pattern of inheritance, meaning that an affected person has a 50% chance of passing the mutated gene to their offspring. However, in rare cases, it can also occur due to new gene mutations with no family history of the disease.
What is the treatment for vitelliform macular dystrophy?
Currently, there is no cure or effective treatment for Best disease. However, several disease management strategies can aim to slow down the progression of vision loss and improve the quality of life for those affected.
These options include:
Regular Eye Tests are required for early detection and continuous monitoring of the disease's progression are crucial. Routine eye exams can help identify changes in the macula and guide treatment decisions.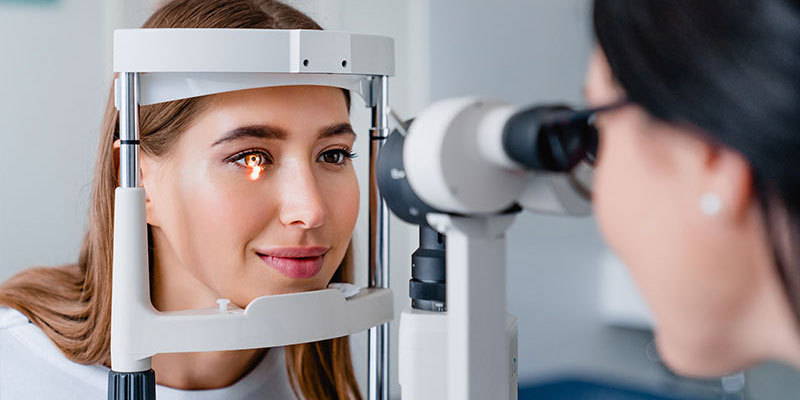 Low vision aids are visual aids, such as magnifiers and telescopes, can assist individuals with Best disease in daily activities, enhancing their independence and functionality
Genetic counselling involves helping families understand the inheritance pattern of the disease
On rare occasions new blood vessels can form under the retina, this is called neovascularization. If you are diagnosed with choroid neovascularization and a choroid neovascularization membrane, your healthcare provider may recommend the following treatments to halt the growth of new blood vessels:
Anti-vascular endothelial growth factor agents (Anti-VEGFs) are injected directly into the vitreous cavity of your eye in order to prevent the formation of new blood vessels.
Laser therapy uses lasers to effectively block the growth of abnormal blood vessels
Photodynamic therapy involves combining a laser with a light-activated drug, this therapy damages the blood vessels and effectively stops leakage
The above-mentioned treatment options manage the condition and can help preserve your vision.
Coping with vitelliform macular dystrophy
Being diagnosed with vitelliform macular dystrophy can be emotionally challenging for both affected individuals and their families. It's essential to seek help from medical professionals, genetic counsellors, and support organisations. Coping with such a rare condition requires emotional support, access to relevant information and a certain sense of belongingness in society.
The Macular Society offers local groups nationwide and a helpful phone counselling service. Connecting with others who share similar experiences can be beneficial in such situations.
The Best disease (vitelliform macular dystrophy) BVMD - Facebook Group is a patient-led community where individuals can come together to share their experiences and exchange valuable information related to this condition.
Join the national campaign of Rare Disease UK that aims to elevate awareness about rare diseases across the UK, shedding light on the challenges faced by patients with rare conditions.
Research and Future Outlook
Research on vitelliform macular dystrophy is constantly evolving, and scientists continue to explore novel therapies and best practices to aid management options and possible treatment plans. Gene therapies, stem cell treatments, and miscellaneous developments hold great potential for the outlook of the Best disease.
Vitelliform macular dystrophy, also known as Best disease, is a rare genetic eye disorder causing progressive vision impairment. While no cure exists, early diagnosis, eye check-ups, and ongoing research offer hope for future breakthroughs. Moral support, information, and community engagement are essential in navigating the challenges. Seek expert advice for vision issues and stay informed for a brighter future in managing Best disease.