Sunglasses tint options: which tint is best?
Medically reviewed by Wut Win on 12th December 2022
There are several different lens tint options for sunglasses available at Feel Good Contacts, allowing you to customise your sunglasses. This will ensure your sunglasses fit with your personal style and that they protect you from UV rays. The lens tint you choose is important as it will help you to optimise your performance, enhance visual acuity and give you optimal comfort.
What is the purpose of coloured tinted sunglasses?
Tints filter light in various ways. Whilst some tints are better at blocking light, others will improve contrast and enhance colour. The best lens colour for you will depend on when you use your sunglasses. You may prefer the look of one tint over another, however, this doesn't mean that they are best suited to your lifestyle.
There are all kinds of lens colours available for your sunglasses, including yellow, pink, brown, grey, green and blue. You can choose grey, brown, green, gold, pink/purple, yellow, brown, silver, blue, red and orange on the FGC website.
Which tint is best for sunglasses?
When choosing a tint for your sunglasses, be it prescription sunglasses or non-prescription shades, it's useful to consider the properties of the different coloured lenses available so that you can determine which ones are best suited to your lifestyle. Here is our guide for choosing sunglasses tints:
Grey tinted lenses - these provide a neutral tint that will allow you to see colours in their truest form. Grey tinted lenses are great for driving and outdoor activity such as running or cycling as they reduce glare and block out bright sunlight. They are also a great choice for everyday use.
Orange/yellow tinted lenses - these are best for foggy or low-light conditions. Yellow is good for night-time driving as it increases contrast and makes objects appear sharper. However, they can also cause colours to look distorted. These tints are best for activities like snowboarding and skiing.
Brown tinted lenses - these coloured lenses will enhance the colour contrast between blues and greens, and allow you to see clearly on the cloudiest of days. They also block blue light and reduce glare. Brown tinted lenses often feature a red element to improve depth perception, making them a great choice for outdoor activities, including golf and water sports and an excellent option for high altitude sports and tennis too as they provide increased contrast against green landscapes and blue skies.
Green tinted lenses - green tints also block out blue light and reduce glare whilst also reducing eye strain under bright light conditions. They provide great visual acuity and are an excellent choice for a range of sports and everyday use.
Red/rosy tints - these tints enhance detail and depth perception, providing good visibility on the road. They provide the highest contrast and are especially recommended for skiing/snowboarding, racing, and water sports and cycling.
Blue tinted lenses - these lenses have a calming and soothing effect on the eyes. As well as reducing glare, they work wonders to enhance contours and provide good contrast in mid to bright conditions. These lenses are cosmetically pleasing and are mainly used for fashion purposes. However, they are also great for misty conditions and outdoor leisure activities such as water sports and snowboarding.
Gold/silver mirror glasses - these lenses are a great addition to lenses for a fashionable look. Plus, they are great for reducing glare and can improve visual comfort in bright conditions.
Some sunglasses come with the added benefit of a multi-purpose Anti-reflective Coating (anti-glare). This coating is applied to the back surface of sunglasses lenses and eliminates glare and reflections from the sunlight reflecting into your eyes from the back surface of tinted lenses when the sun is behind you. We sell many brands and models which feature a multi-purpose Anti-reflective Coating, including Ray-Ban, Oakley and our own Feel Good Collection.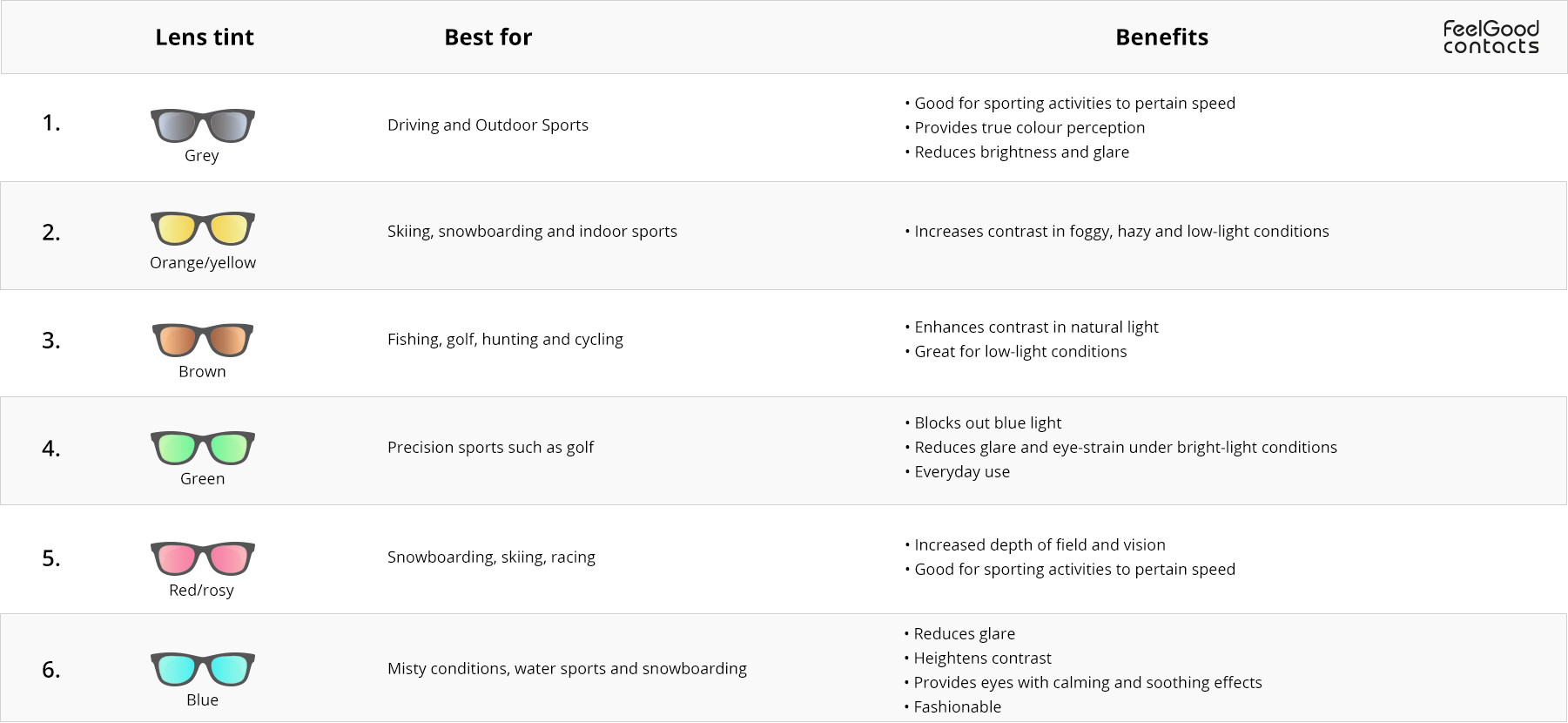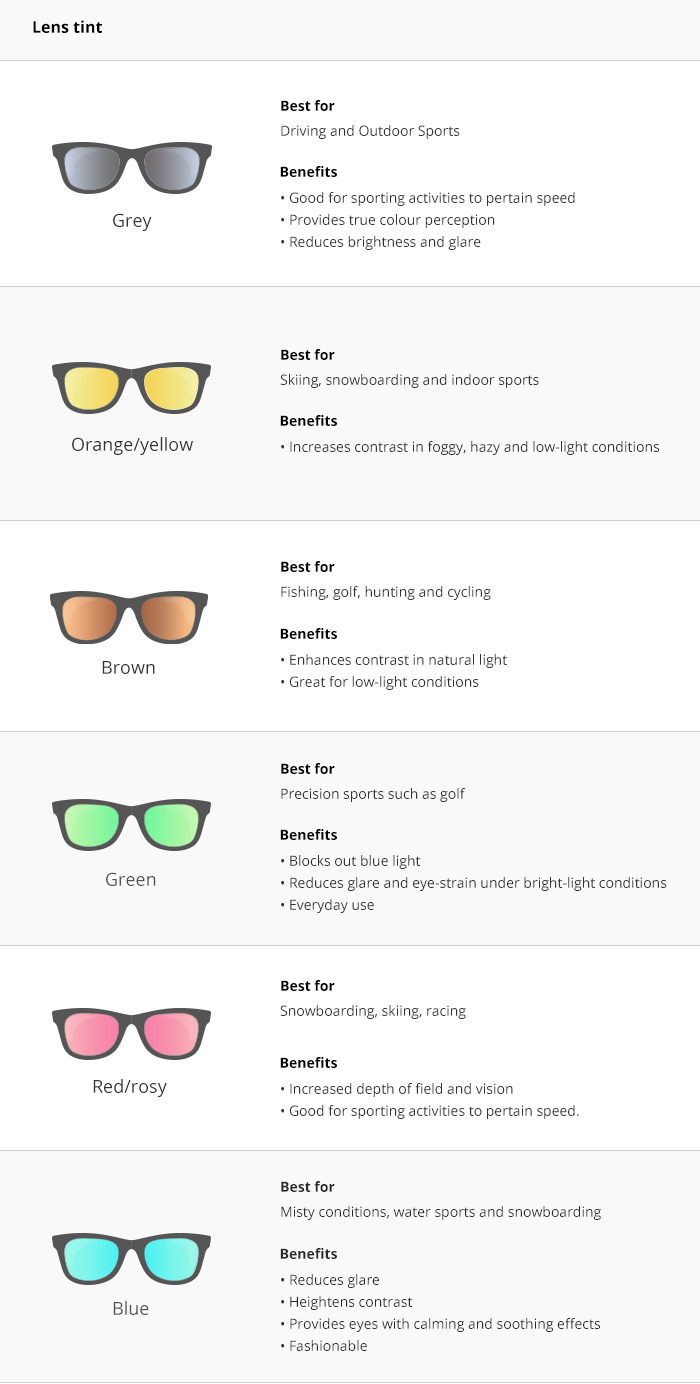 Gradient tints
Our gradient lenses are dark at the top and gradually get lighter towards the bottom. They are an excellent choice for driving as the darker top part of the lens offers protection against the bright sunlight, while the clear bottom allows the wearer to see the dashboard easily.
Mirrored tints
Mirrored lenses improve visual comfort in bright conditions and feature a highly reflective surface on the front layer of the lens. They come in a single colour of an iridescent mix of two or more-coloured lenses and will add a stylish aesthetic to your look. The mirror coating is a "one way" coating on the outside and the wearer will see one of the standard tints (grey, brown or green) regardless of the colour on the exterior of the lenses.
Polarised tints
Polarised lenses feature a tint with a laminated filter to block out horizontal glare from light reflected off surfaces such as water, snow, glass, roads and car hoods. They improve visual comfort by increasing contrast and reducing eye strain. Great for those with active lifestyles, they come in a range of colours with darker colours offering a higher level of polarisation. Best for fishing, sailing and water sports.
Photochromic tints
Photochromic lenses feature tints which darken when exposed to UV light. Sunglasses with photochromic tints are a great choice for a range of environments as they eliminate glare, improve visual acuity, enhance contrast, and prevent eye strain while offering 100% UVA and UVB protection. They are a great choice for hiking, golfing, gardening, and biking but are not so great for driving as the windscreen of a car blocks the UV light.
Photochromic lenses can be added to any frame. The most popular brand of photochromic lenses is Transitions, and there are many brand options to choose from with prices starting from £35. There are a range of varieties of photochromic lenses to serve different functions, such as:
Transitions Signature GEN 8 - takes the shortest time to transition from clear to dark. An ideal option for sports or rigorous activities. For added benefits, available colours include Grey, Brown, Graphite Green, Sapphire, Amethyst and Amber.
Transitions XTRActive (New Generation) - transitions to a slight tint indoors and darkens to a strong tint in direct sunlight and hot temperatures. Available in Grey, Brown and Graphite Green, they offer the best solution for those who suffer from indoor light sensitivity but can also be beneficial for driving as they will still darken behind a car windscreen unlike most standard photochromic lenses.
Transitions Drivewear – offer the most complete solution to benefit driving. They feature polarised lenses that sharpen colour perception, enhance contrast, and transition from a strong tint to a faint tint depending on the level of light exposure. They do this using pioneering technology that makes them appear green/yellow in overcast conditions, changing to copper shades behind a car windscreen and settle as dark-reddish-brown in bright light.
What are the best sunglasses for blocking sun?
The best sunglasses for blocking sun are grey, green, brown and red tinted sunglasses. Mirrored lenses are also an excellent choice as they reduce the level of light and glare, ensuring that sun rays are reflected away from eyes in bright conditions. You'll be able to find a range of mirrored sunglasses by brands such as Oakley, Ray-Ban and Superdry.
What do sunglasses categories mean?
Sunglasses are given categories to determine how light or dark the lenses are. Category 0 means the lens is completely transparent, these are used for prescription lenses or non-prescription fashion lenses. The higher the category number, the lower the LTF (light transmission factor) and the darker the lens.
Category 0 = LTF 80%-100% (very pale to clear lens)
Category 1 = LTF 43%-80% (pale tint)
Category 2 = LTF 18%-43% (medium tint)
Category 3 = LTF 8%-18% (dark tint)
Category 4 = LTF 3%-8% (very dark tint)
What is the darkest tint for sunglasses?
The darkest tint for sunglasses is lens category 4. However, the most popular for sunglasses is category 3 as category 4 is too dark for driving. These sunglasses have 3% - 8% light transmission and are recommended for activities where strong sunshine is involved such as water sports. Category 1 to 4 is NOT suitable for night time driving.