Sunglasses Guide: What types of sunglasses are there?
Medically reviewed by Wut Win, Dispensing Optician at Feel Good Contacts on 11 July 2023.
Sunglasses come in a variety of shapes and are made with various materials and lenses. From timeless styles such as the classic aviator, round, square, cat-eye and wrap-around sunglasses, to more extravagant styles including hexagonal, butterfly and clubmaster sunglasses, the choices for both men and women are limitless.
With countless styles of sunglasses to choose from, you're guaranteed to find a pair of sunglasses to suit every face shape and every style within a price range that suits you.
At Feel Good Contacts, you can find sunglasses from the world's top designers as well as our very own Feel Good Collection which includes luxurious sunglasses for every individual. We have Oakley, Ray-Ban, Prada and Gucci as well as exclusive collections including the Lewis Hamilton sunglasses collection.
What are the names of sunglasses?
Many types of sunglasses get their name based on how the style originated, whilst others are named based on their resemblance to recognisable shapes or the various features they offer.
Here's a detailed look at every shape of sunglasses available, their histories and who each style is best suited for.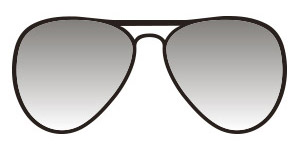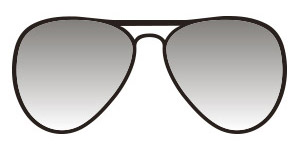 Aviators were initially developed for pilots to protect their eyes whilst flying. Now aviators have made the crossover from a functional safety item to a fashionable must-have. Their vintage thin metal frames and kaleidoscopic reflective lenses are instantly recognisable. The adaptable and timeless nature of aviators has made them one of the most popular choices of sunglasses in history. While originally developed by Ray-Ban, almost all designers now stock their own version of the Aviator.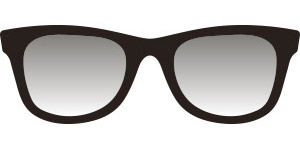 They say lightning doesn't strike in the same place twice, but Ray-Ban proved that theory wrong. Having already scored a hit with the Aviator, Ray-Ban also delivered the Wayfarer. Developments in plastic moulding technology meant that Ray-Ban could move away from metal frames and offer a more modern shape of frame. Wayfarers have a square-like appearance with rounder edges that evoke a more casual appearance.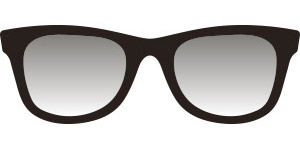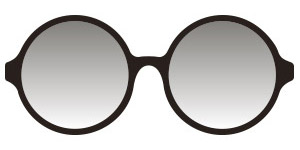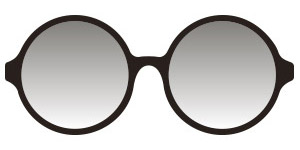 A must-have among trendy festival-goers, round sunglasses were first popularised by the most famous member of The Beatles, John Lennon. Thin round frames create a vintage vibe while thicker, rounder frames are a little more retro, but brands are constantly revisiting this style with modern and chic alternatives.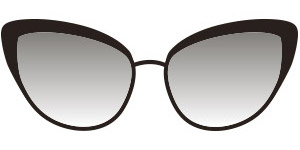 Cat-eye sunglasses perfectly embody the playfulness and sophistication of the '50s. Compatible with most face shapes, they range from daring and bold to gentle and graceful. Cat eyes are identifiable by the upper, outer curve of the frame, which flicks outwards like a cat's eye, hence the name.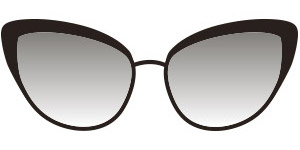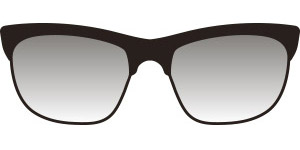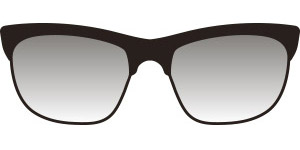 Clubmasters have a very particular type of framing that separates them from other styles. The upper portion of the frame is bigger and bolder than the lower half and is typically crafted from the same plastic or acetate used on the arms. The other parts of the frame, including the bridge, is usually made from metal. Clubmaster sunglasses were based on the browline style of glasses which were very popular during the 1950s and 60's.
While they may not get as much attention as some of the other shapes, they are still a great choice of frame, especially if you prefer to wear brighter colours.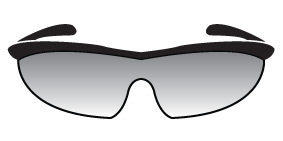 Also known as shield sunglasses, wrap sunglasses are considered great for sports. The functionality and ergonomic design of these frames are ideal for active lifestyles.
They are called wrap sunglasses as the frame wraps around your head, providing peripheral coverage and allowing a wider field of vision. These types of sunglasses are the most popular among athletes and those who enjoy playing sports.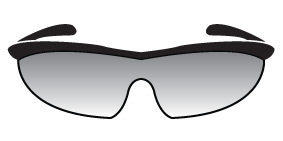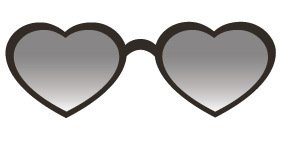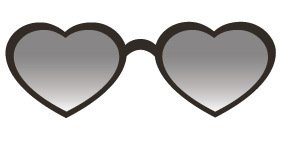 Heart sunglasses offer a fun, playful and slightly retro vibe. These quirky sunglasses are perfect for making a statement and come in many variations and sizes. You can find cat-eye heart shaped silhouettes or even side-ways heart shaped frames, as well as regular heart shaped frames. These fun frames boast personality and uniqueness and will complement any face shape.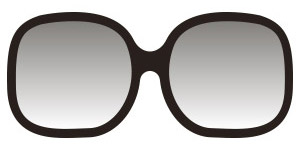 Square sunglasses offer versatility, classic style and above all, mystery. American Vogue editor Anna Wintour is famed for her dark square frames, which she wears to almost every fashion show she attends. Square sunglasses will suit nearly every face shape but work exceptionally well for those with round faces as they add angles and structure.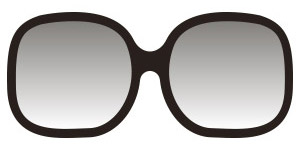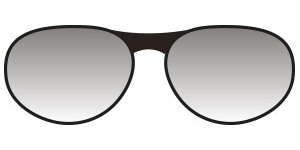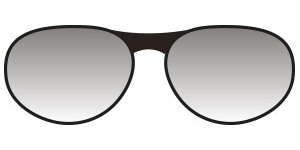 Oval frames have a rounded appearance but are more generous in width than they are in depth, comfortably covering the eye for sun protection. Oval lenses are perfect for every occasion – smart or casual - and look incredibly stylish when the frames are thicker and one colour tone. Nail the care-free but classy look every time.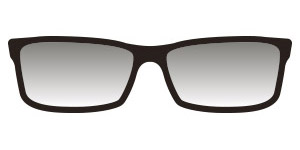 Rectangle frames are a softer alternative to square frames. Far narrower, they pull focus towards the centre of the face, which makes them highly compatible with oblong and longer-shaped faces. They're available in a wide range of styles including retro, sporty, casual and vintage.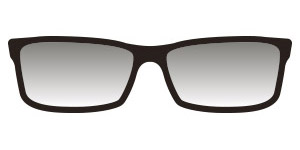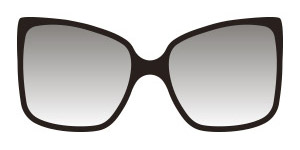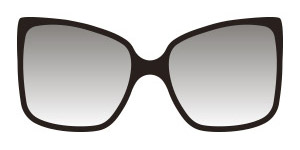 Prada was among the first high-end designers to popularise the butterfly frame shape. This style has a large surface area that covers the eye socket to offer better protection against UV rays. Butterfly lenses are usually wider on the outside, but narrower towards the nose. Edgy, fun and playful, they offer a youthful alternative to more classic frames.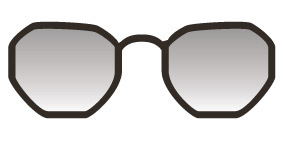 Hexagonal sunglasses combine a round and square frame shape for a trendy alternative. The modern aesthetic is a fashion-forward choice, great for those looking to stand out in something a little bit different.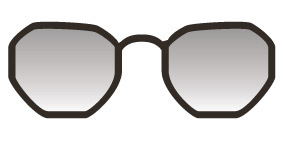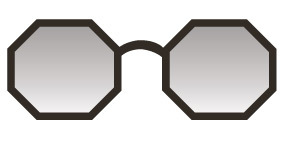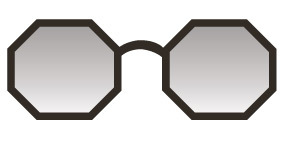 Octagonal sunglasses provide frames of a square and circle hybrid and are somewhat retro in style, offering a glam 70s aesthetic. They are designed to add contour and structure to the angles of your face for a very flattering look.
Why are sunglasses important?
Aside from looking stylish, sunglasses serve to protect your eyes and have a wealth of benefits. High-quality sunglasses will reduce glare, improve your ability to see in bright conditions and prevent sun-related eye disorders such as cataracts. Sunglasses can also protect you from environmental elements such as sand, dust, and wind.
Even if the sun doesn't bother your eyes, you should still wear sunglasses as UV rays can damage your eyes on even the cloudiest of days.
You'll find that all sunglasses sold within the UK have a UKCA mark on them. Sunglasses in Ireland and the EU will have a CE mark. This indicates that they comply with the requirements for products to be sold within Great Britain or EU standards and offer a safe level of UV protection.
Which type of sunglasses is best?
The best types of sunglasses are the ones which offer 100% UVA and UVB protection. In addition to these, you can buy a range of sunglasses with different tints to ensure better vision and comfort in certain conditions.
Polarised sunglasses are great as they offer polarised lenses which reduce glare from bright light when it reflects off flat surfaces. They are the best choice for those who spend a lot of time near water, be it sailing, fishing or going to the beach. They are also great for driving as they minimise glare from vehicle windows and pavements.
Gradient lenses also offer clear vision whilst driving, with the top of the lens being darkest, therefore protecting your eyes from sunlight whilst allowing more light to the bottom half of the lens so that you are able to see your dashboard clearly.
Sunglasses with an anti-reflective coating on the back side of the lenses are also an excellent choice for minimising glare.
Mirrored sunglasses limit the amount of light that enters the eyes with mirrored lenses. These make them perfect for activities in very sunny conditions.
What type of sunglasses should I wear?
There are several factors to consider when deciding what type of sunglasses you should wear. Choosing a frame to suit your face shape or choosing suitable lenses for certain activities are things to consider.
Some frames suit some face shapes more than others, for example, round or oval sunglasses look great on square-shaped faces, whereas square and rectangular frames complement round-shaped faces. If you're wondering which type of sunglasses are best suited to you, take a look at our guide on matching your sunglasses to your face shape.
If you're somebody who enjoys playing sports, you might want to consider purchasing a pair of sunglasses that provide peripheral coverage such as wrap sunglasses. This style of sunglasses will enhance your vision and performance with a secure and comfortable fit. For those who like to make a statement, larger frames such as butterfly and cat-eye sunglasses are a great choice.
Lenses are also an essential factor to consider when deciding which sunglasses you should wear. From polarised lenses to mirrored lenses, gradient lenses and sunglasses with an Anti-reflective Coating. All sunglasses should have 100% UVA and UVB protection to ensure that your eyes remain healthy and looked after.
At Feel Good Contacts, all our sunglasses come with 100% UVA and UVB protection lenses to ensure safety. Our wide selection of sunglasses even includes models with various tinted/coloured lenses for those who like a quirky aesthetic.
Shop top designer brands for up to 40% cheaper than the high street and get 10% off your first order as part of our welcome offer (or up to 20.15% student discount if you're in full-time education).
Quick links:
Which sunglasses will suit my face shape?
What are polarised sunglasses?
Protecting your eyes from UV rays