Best brands for aviator sunglasses
The aviator has grown in popularity since its invention by Ray-Ban in the 1930s. Many brands adopted the Ray Ban aviators sunglasses style when they became a mainstream phenomenon due to the movie 'Top Gun'. Here are some of the best brands for aviators and their best aviator sunglasses for 2021.
Ray-Ban
The aviator is where it all started for Ray-Ban, despite being best known for their Wayfarer sunglasses. Not only have they created the bestselling aviator sunglasses of all time with their RB3025 Aviator, but they have evolved their aviator style with eye-popping colour ranges and new styles such as the RB3561.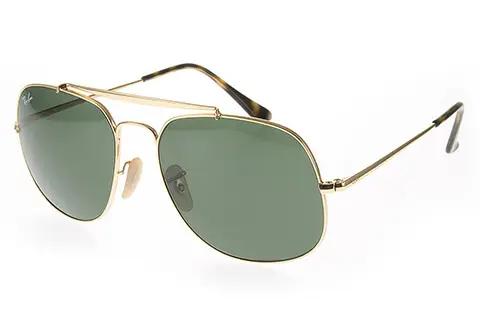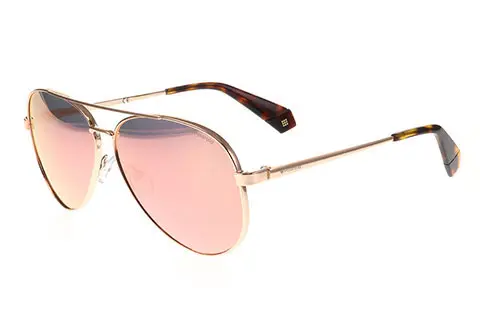 Polaroid
Polaroid is another popular choice for aviator-style sunglasses. Their aviators feature a polarised tint to reduce the uncomfortable glare that reflects off surfaces such as water, roads, and snow. Aviator sunglasses by Polaroid are guaranteed to reduce eye fatigue and offer the clearest colour range during wear.

We love the Polaroid PLD 6069/S/X Rose Gold 210/0J Polarised sunglasses for their feminine twist. Polaroid has taken the classic aviator model and given it a contemporary design with its rose gold frames and polarised lenses with 100% UV protection from UVA and UVB rays.
Gucci
Gucci has taken a modern approach to the timeless look of the aviator by adding bold eccentricities for a maximalist fashion-forward look. The Gucci GG0200 S Black Gold 001 sunglasses reflect this and celebrate the brand's stylish edge. You can expect to see high quality Italian craftsmanship and attention to detail in the Gucci aviator sunglasses models.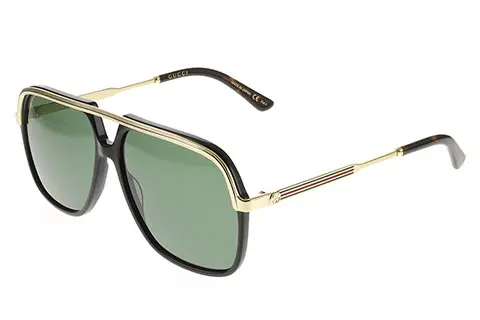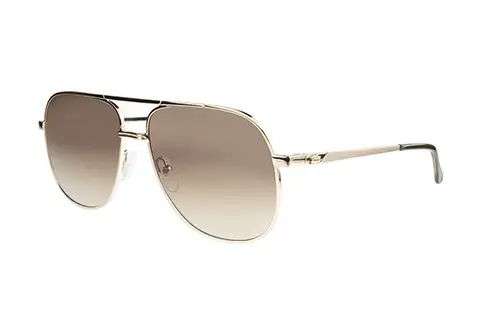 Lacoste
Lacoste aviator sunglasses stay true to the timeless sophistication of the aviator model, combining it with technical quality and a minimalist, athleisure aesthetic. The Lacoste L222S 757 Golden Beauty fuse Parisian style with a sporting elegance. The Lacoste L222S 757 Golden Beauty sunglasses are a favourite aviator style this summer and give the classic silhouette a polished update with the golden colourway.
Carrera
Another brand that combines sporty style with innovative functions, Carrera's aviator sunglasses are extremely popular for men and are sported by Formula One stars Kimi Räikkönen and Antonio Giovinazzi. The Carrera 1006/S T17/IR Ruthenium Black sunglasses are a unique aviator style with a slightly squared frame shape. These edgy shades reflect the sporty yet stylish aesthetic the brand is known for.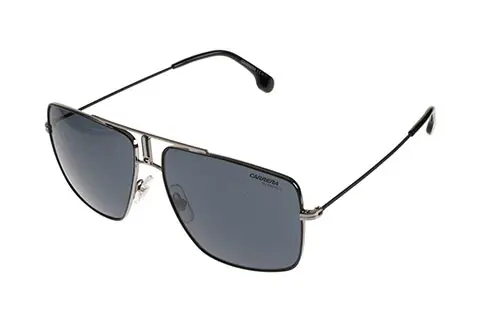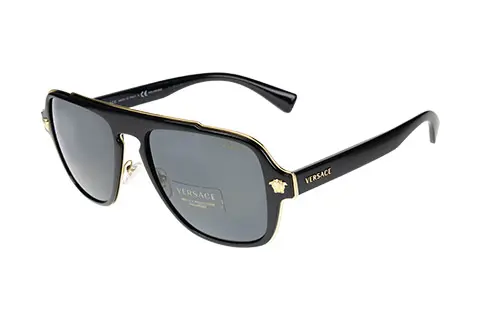 Versace
For ultra-glamorous aviator sunglasses, we look to Versace, who has taken a bold approach to redesigning the aviator. Versace aviator sunglasses embody the glamour and decadence of the brand. The Versace Medusa Charm VE2199 1002/81 Black Polarised sunglasses feature an aviator frame with a luxurious gold trim and the Versace logo on the temple tips. An excellent choice for those who wish to make a fashion statement and turn heads.
Feel Good Collection
The Feel Good Collection offers both on-trend and classic aviator style sunglasses with affordable price tags. You'll be able to find a range of high-quality aviator styles in this collection. The FGC Skyler C1 Tortoise Polarised sunglasses are the perfect everyday aviator frame that will complement all styles.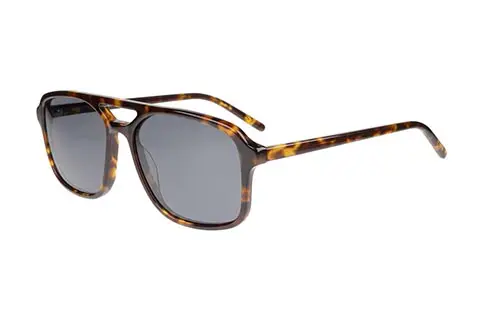 How to wear aviators
When wearing aviators, make sure you get the right size for your face, ensuring the correct fit. The bridge should fit comfortably, not too high on the face and not too low down on your nose. Your eyelashes should not touch the lenses, and there shouldn't be any indents on the nose from the nose pads.

Aviators should cover the entire eye socket and partially cover the eyebrows too. If they don't, then they are most likely too small.
What face shape do aviators look best on?
Aviator sunglasses look best on diamond, heart, oval, and square face shapes. If you have rounder features or a narrow face, we would not recommend these teardrop sunglasses for you.
How to style aviators
The great thing about aviators these days is that there are so many different colourways, finishes and materials that it's easy to find something to suit different styles. You can team them with a minimal look; think white t-shirt and jeans for a timeless appeal, or have fun with them by teaming them with a vibrant printed shirt for a more retro style.

Aviators with coloured lenses will add an eccentricity to whatever you wear and are a bold choice, whereas dark lenses and frames are a more subtle option. Either way, their versatility means they can be adapted to a range of styles and occasions. Whether you're relaxing by the pool or on your way to the city, you can't go wrong with a pair of aviators.
Why do pilots wear aviator sunglasses?
Pilots wore aviator sunglasses to protect themselves from a headache-inducing glare at altitude. These sunglasses were, in fact, initially designed for pilots in the 1930's after a US Army General challenged Bausch & Lomb (owners of Ray-Ban at the time) to create a pair of sunglasses that would give military pilots the best coverage for their eyes. Aviators feature a teardrop design to cover the whole of the eye socket.

It wasn't long until aviator sunglasses were worn by sportsmen, fishermen and celebrities such as Elvis Presley, who turned them into a much sought-after fashion accessory.
Why are aviators so popular?
Aviators grew in popularity as a result of the riveting action film Top Gun. Tom Cruise and Val Kilmer were seen sporting the Ray-Ban RB3025 Aviator Gold Green 001/58 Polarised sunglasses, turning them into a must-have accessory for men.

Now you can get aviators with metal frames and acetate frames, tinted lenses and polarised lenses, as well as ones that reduce glare; the choices are endless.