UV rays emitted from the sun can pose a serious threat to our eyes if we don't take care to keep them protected. Did you know that wearing glasses, sunglasses and contact lenses with UV protection can be incredibly beneficial in preventing eye diseases such as age-related macular degeneration and cataracts?

If there's only one tip we'd give you this summer, it's to keep your eyes protected from UV rays. As a matter of fact, we'd advice this all year round as even though the sun is less visible during the months of autumn, winter and spring, the sun's rays are still strong enough to penetrate the clouds.

Perhaps see this as an excuse to treat yourself to a new pair of stylish sunglasses with UV protection. If you require vision correction, we'd recommend glasses or contact lenses with UV protection.
Sunglasses with UV protection
A pair of stylish shades are the ultimate accessory; a must have if you wish to keep your eye health in tip top condition, so long as they have 100% UVA and UVB protection.

Don't be fooled by fake designer sunglasses no matter how tempting they seem. A quality pair of sunglasses offers UV protection, protection from intense light and glare while enhancing contrast to give you optimal clarity. Opting for fake sunglasses often means giving up these benefits.
Do regular sunglasses have UV protection?
Not all sunglasses have UV protection. You'll know whether your sunglasses have UV protection by looking at the inner side of the temples.

Sunglasses with an adequate level of UV protection will have the CE or UKCA mark.
Which sunglasses are best for UV protection?
The best sunglasses for UV protection can be found online at Feel Good Contacts. All our sunglasses guarantee 100% UVA and UVB protection. We stock sunglasses with a variety of lenses including polarised lenses, mirrored lenses, and gradient lenses. They all offer UV protection; however, their different benefits also cater for different situations.

For example, polarised lenses are best for activities such as water sports and driving as they offer protection from glare as well as UV protection, allowing you to see more clearly whilst protecting your eyes.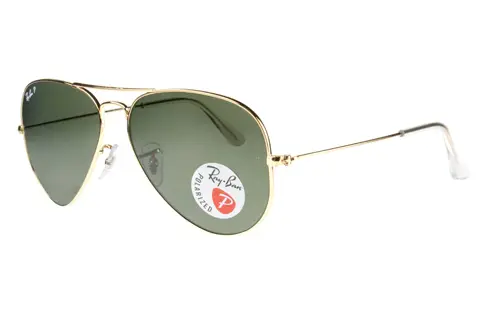 Ray-Ban RB3025 Aviator Gold Green Large 001/58 Polarised
Mirrored lenses are also excellent for reducing glare and look super stylish. They will prevent excess light from entering your eyes and protect you from UVA and UVB rays.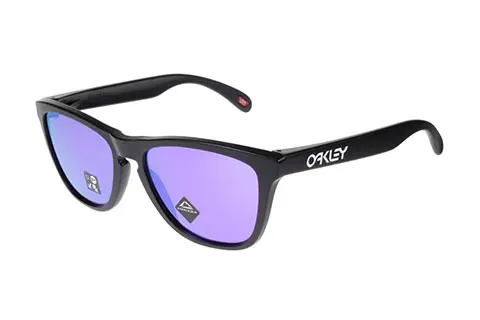 Oakley Frogskins OO9013-H6 Prizm Violet
Gradient lenses feature a tint which is typically dark at the top and gradually becomes lighter towards the bottom. This ensures that your eyes are protected from the sun overhead while allowing more light through the bottom portion of the lens. These are also an excellent choice for driving or reading on the beach.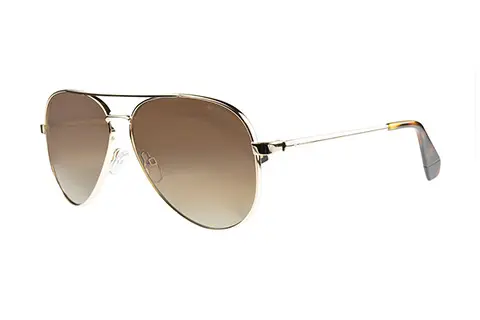 Polaroid PLD 6069/S/X J5G/LA Gold Polarised
Which sunglasses are better UV protection or polarised?
A good quality pair of polarised sunglasses will also have 100% UVA and UVB protection. In fact, all quality sunglasses, be it polarised, mirror or gradient will have an adequate amount of UV protection.
Glasses with UV protection
If you already have a quality pair of sunglasses, you may be wondering if it's necessary to have glasses with UV protection. Nevertheless, it's important to keep in mind that UV light is all around us even on the cloudiest of days, posing a threat to our eye health. On days like this, having an extra layer of protection on your glasses is a good idea and another precaution you can take to shield your eyes from the damaging effects of UVA and UVB rays.

If you spend a lot of time outdoors or driving, we recommend opting for a UV filter when you purchase your prescription glasses. This will ensure that your eyes are always kept safe.
What kind of UV treatments are available for prescription lenses?
There are a variety of UV treatments available for prescription glasses including Sun Tints which is basically your prescription in sunglasses and features a full dark tint with 100% UVA and UVB protection. You can also opt for Transitions; these are self-tinting lenses with 100% UVA and UVB protection. They darken when exposed to direct sunlight, changing from glasses to sunglasses.

Nevertheless, you don't have to choose these lens options in order to have UV protection. Simply choose from our Standard +, Thin or Super Thin lens packages for 100% UVA and UVB protection with your glasses.
Contact lenses with UV protection
If you require vision correction and wear contact lenses, we recommend that you opt for contact lenses with UV protection. These contact lenses absorb the ultraviolet radiation and limit the amount that reaches the eye's surface.

It's very important to still wear sunglasses with these contact lenses, as sunglasses will give the needed side coverage that contact lenses can't. UV-absorbing contact lenses are NOT substitutes for protective UV-absorbing eyewear, such as UV-absorbing goggles or sunglasses, because they do not completely cover the eye and surrounding area. The patient should continue to use UV-absorbing eyewear as directed.

Different contact lenses offer different levels of UV protection. They are labelled as either class 1 or 2 and are based on the percentage of UV rays which they can block. You can find both class 1 and class 2 UV blocking lenses at Feel Good Contacts.
Top tips for choosing the right UV protection:
When choosing sunglasses, glasses or contact lenses with UV protection, here are some things to keep in mind so that you get it right:
Choose frames that offer good coverage and fit well. Wrap sunglasses with UV protection are great as they'll also keep your eyes protected from any side glares
While prescription glasses with UV protection can protect your eyes in cloudy conditions, it's worth investing in a quality pair of sunglasses for days when the sun is shining brightly
If you spend a lot of time switching from indoors to outdoors, glasses with Transitions lenses are a great choice
A good quality pair of sunglasses doesn't have to break the bank. Shop designer sunglasses for up to 40% cheaper than the high street at Feel Good Contacts or browse our very own Feel Good Collection for premium quality at the most affordable prices