With this in mind, we're sure you'll be taking your sunglasses and glasses out for a swing. But before you do, why not make the most of the last week indoors and get to work on creating a stylish glasses chain?

Beaded chains for eyeglasses, sunglasses and reading glasses are a must-have accessory right now and will ensure you don't lose your stylish frames while taking your eyewear look to the next level. They also make unique handmade gifts for friends and family.

First seen on your grandma, now sported by influencers and celebs including Gigi Hadid and Shay Mitchell, this emerging trend is all the rage for SS21, so read our step-by-step guide and get making.
How to make a DIY glasses chain
DIY glasses chains are ever so easy to make. You'll need:

Beading wire or a cord
Crimp beads x 2
Eyeglass holder x 2
Beads
Wire cutter or nail clipper
Creativity
Directions to make a DIY beaded eyeglass chain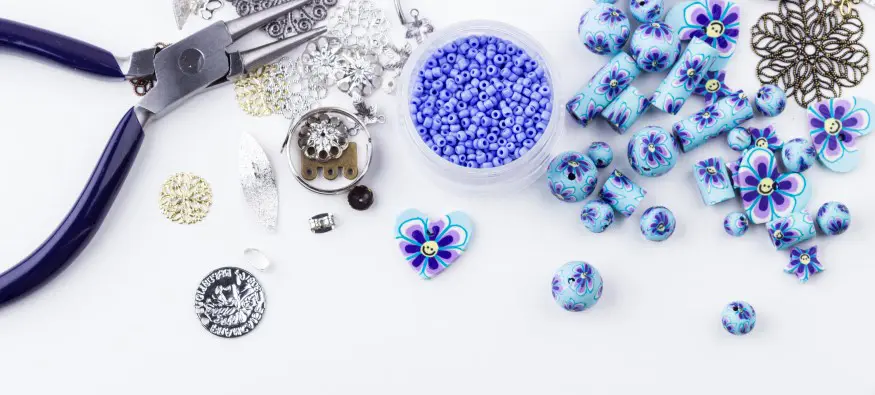 1. Take your beading wire or cord and cut it to an appropriate length. You can use a wire cutter or toenail clipper to cut the wire. We recommend cutting it at a 45-degree angle as this will make it easier to thread smaller beads on.

2. Add a crimp bead and eyeglass temple holder.

3. Get creative and string on your beads in the order of your choice.

4. Add the other crimp bead and eyeglass temple holder thread on smaller beads.

5. Add the glasses chain ends onto your glasses and enjoy!
When were glasses chains launched?
The French designer Emmanuelle Khanh launched glasses chains as a fashion accessory in their own right along with prescription glasses in 1971. A symbol of the early '70s, glasses chains have now been revived by supermodels and fashionistas alike.
How do you wear these glasses chains?
There are multiple ways to wear your glasses chains, be it behind your neck, classic-style or dangling in front. Style as you please; the options are endless.

Your beaded eyeglass chain can also be worn as a beaded necklace or used as a mask holder to keep your face mask easily at hand throughout the day.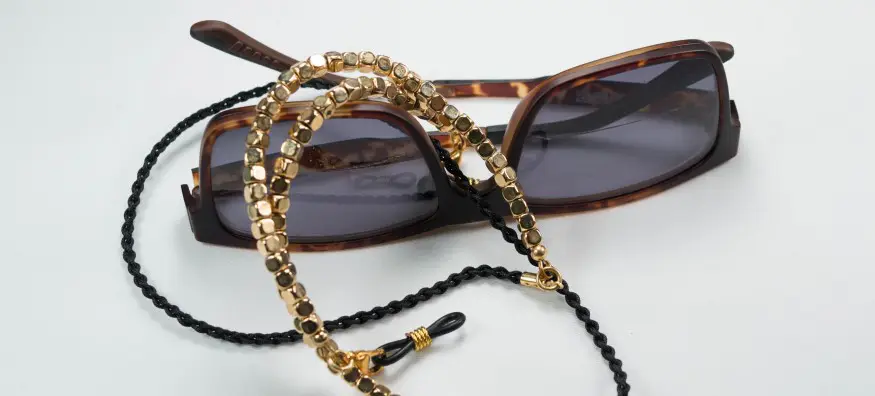 Team them with your favourite pair of designer glasses or sunglasses. Our Le Specs or latest Chloe models will give you a showstopping fashion-forward look. Many of our Chloe frames have laser-cut holes in the temple tips so that your glasses chains can be looped through easily. You'll be sure not to lose your favourite sunnies or specs with this summer staple accessory.