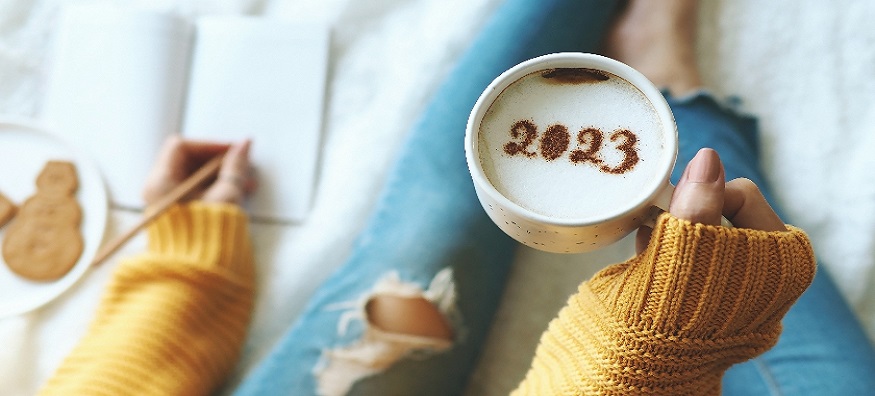 The start of a new year, and better yet, a new decade, is the perfect time to start thinking about self-improvement. All too often, people tend to make too many goals and then feel like failures when they inevitably fail. You're not a failure! You might just be overestimating how much change you can achieve in a year.

Change is hard. It takes a minimum of 21 days to form a new habit, the main word here being 'minimum'. In reality, it could take you a lot longer, depending on your goal.
Are New Year's resolutions worth doing?
According to a global consumer survey done by Statista, just 27% of the UK made a New Year resolution last year. This shows a trend in less people favouring yearly goals, which undoubtedly is because they are so difficult to be consistent with throughout the year.

Even with the best intentions, busy schedules and low motivation can quickly stop us from achieving our New Year's resolutions. Follow our tips to help you choose the right New Year's Resolutions for you, and actually stick to them.
Make it specific and personal
It's easy to make vague goals like 'I'm going to eat healthier' but what does that really mean? If you make your goal more specific, for example, 'I'm going to eat more vegetables and fruits', then you have a better starting point.

Also, try to think about why you set this goal in the first place. Are you the person who's always getting sick? Is your health a neglected area in your life? Think about how much a diet full of more nutritious foods will benefit your energy levels and your immune system. A personal connection to your goal and constantly reminding yourself of why you're doing it should motivate you to succeed.
Write your goals down
Writing down your goals will help you to keep better track of your progress. We suggest keeping a diary to monitor your progress. Write them down on a big sheet of paper and stick it up somewhere so you can see them daily.

Make it visual. Mood boards are great ways to keep your goals in mind every day. You could stick these up at home or on your desk at work. If you are always on the go, a moodboard on your phone might be a better option. There are apps available such as Moldiv, which will allow you to create digital moodboards, so you can be inspired by them no matter where you are.
Break your goals down
Most people are so concerned with the end goal that they don't take the time to properly plan how they will get there. If you plan out exactly how you're going to achieve your goal, based on tasks you can complete daily, weekly and/or monthly, then you'll be actively working towards your goal throughout the year. If you tend to forget about goals or have a busy lifestyle, setting reminders on your phone and noting them down in your to-do lists/calendars can help you keep on top of things.



Limit your number of goals
Write down no more than 5 of your most important goals. The reason you shouldn't do too many is that you're much more likely to stick to a few. Conserve your energy and efforts for those few and you'll give yourself a better chance of completing them by the end of the year.
Start just 1 goal at a time
This is an important one. If we focus all of our efforts into a single goal, we are much more likely to succeed. So commit yourself to 1 goal for the first few months of the year, wait until you have created a solid, consistent routine with this goal, and then start the next goal.
Don't quit at the first hurdle
We're only human, it's all too easy to get distracted, lose motivation, get side-tracked by a huge life event or even just to forget. Don't give yourself a hard time if you don't make the progress you want to; just try to get back to it when you can. It's the trying that counts, and Rome wasn't built in a day!
Find a buddy
You'll be more accountable if other people know about your New Year's Resolutions. Tell your friends and family and give them regular updates about your progress.
Reward yourself
The reward system in our brains is a clever tool that we can use to our advantage. If you give yourself small rewards every time you make progress, these not only act as a way of congratulating yourself but also serve as motivation to keep going towards the next milestone. Over time your brain will associate a particular habit with rewards and make it much more likely that you'll want to do it in the future.
Don't give up
Keeping your New Year's resolutions isn't easy, the amount of people who fail every year is evidence of that. Just because something is difficult though, doesn't mean it isn't worth doing. Stick to our tips and you should have an easier time with your goals.

We at Feel Good Contacts would like to thank all our customers, new and existing, who visited our site throughout the year. We wish you all the best in 2023!