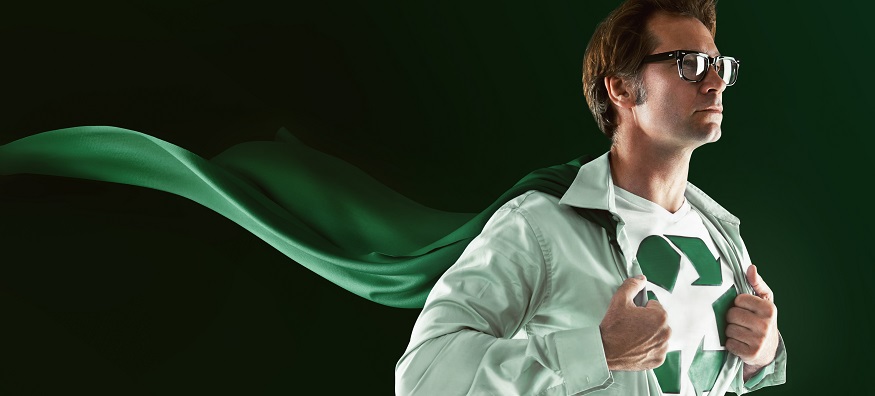 The shift in attitude doesn't come a moment too soon, with the fashion industry's shocking environmental impact. As a result of fast fashion, more than 1.92 million tonnes of textile waste is produced each year.

What's good to see is that a lot of this hype for sustainable eyewear is coming straight from the fashion industry. Influencers and fashion icons like Jane Fonda, Greta Thunberg and Emma Watson have all begun to champion recyclable and biodegradable products over single-use options. Eyewear options from brands like Ray-Ban and Polaroid are also bucking the trend when it comes to glasses and sunglasses.

Now, fashion conscious individuals everywhere are looking for options that not only look great, but do good for the planet too.

Read on to find out how to add the best sustainable eyewear options to your wardrobe and support eco-friendly eyewear.
Understanding sustainable eyewear
Sustainable eyewear aims to limit the environmental impact of the production and sale of prescription and non-prescription glasses and sunglasses.

Environmental impact can sneak into the eyewear industry in many ways. It's not just the products themselves, but every process from manufacturing and distribution to the eyewear ending up in landfill that contributes to the industry's carbon footprint.

According to James Conway, CEO of Millmead who shared insights with Optometry Today, around 3,000 tonnes of glasses lenses alone go to UK landfill each year. Add to the number of unsold frames, excess materials, broken or damaged goods, plus what happens to pairs of glasses after they have been used and loved by customers, the volume of waste plastic becomes overwhelming.
Materials and manufacturing processes
Some of the top designer sunglasses and prescription glasses brands have done their due diligence to source new and sustainable materials for their products.
Types of eco-friendly materials used in sustainable eyewear
Recycled plastic
Recycled materials can be used to make glasses and sunglasses. This strategy can give a great number of used items, from lifestyle products to industrial tools, new life as a fashion accessory that can be loved again.

There are two main types of plastic waste that can be used to create recycled materials, pre-consumer waste and post-consumer waste.
What's the difference between pre-consumer waste and post-consumer waste?
Items made from pre-consumer recycled plastic are made from scraps, rejects and trimmings created during the manufacturing process. This material is not virgin plastic, but it never reached the consumer as a product that would be used for a specific purpose.

Post-consumer recycled plastic, however, is made from waste that has been turned into a consumer product, used, and then disposed of. Plastic food containers and product packaging are common materials that will be diverted from landfills to be recycled. Textiles like polyester from recycled clothing and ropes can also be converted into recycled acetate to make consumer products like EARTH sustainable glasses frames.
Bio-based acetate
New and innovative materials like bio-based acetate offer a great solution to the plastic crisis in landfills and the wider micro-plastic problem that seeps into our environments. While it has very similar properties to standard oil-based plastic, its lifespan can be considerably reduced once it is no longer in use.

Where standard plastic does not biodegrade, meaning it can be broken down into millions of smaller particles but does not fully disappear (turning into microplastics), bio-based plastic can be broken down using a special enzyme treatment in a laboratory. Brands like Barbour are using this material technology and encouraging customers to dispose of their products through appropriate routes once they have used and loved their Barbour glasses frames for a long time.
Reclaimed wood
Wood that is used for larger items such as construction and furniture often leave behind smaller pieces that cannot be used easily in trade. However, consumer products like glasses frames can give these excess materials new life as a sustainable accessory.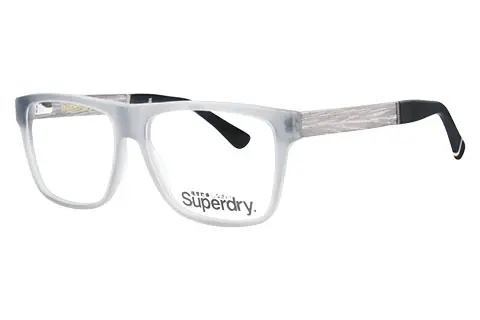 Superdry SDO Hunter 108 Matte Grey Wood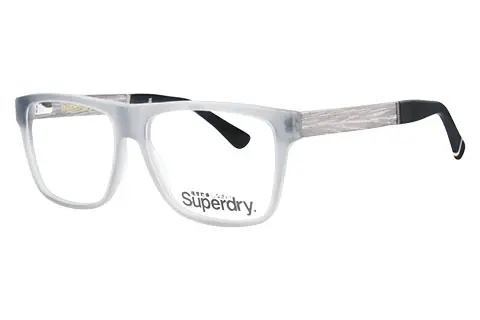 Brands like Superdry are adding natural products back into their manufacturing processes for their sustainable glasses' frames. This stylish grey frame features handcrafted wood temples.
But there are yet more ways to build the sustainability proposition of the eyewear industry.

For example, buying your glasses or sunglasses online can be considered a more sustainable way to shop for eye care. That's because online retailers operate from one location, rather than several physical stores, scattered across the country. With fewer sites for customers to visit, brands can create convenience by offering suitable delivery options. Most importantly, they vastly reduce the power consumption associated with keeping multiple shops open.
Sustainable production methods of the future
For brands which want to make the end-to-end process of manufacturing more sustainable, they can look to the production methods to build out their sustainability proposition. While some experimental strategies have already been implemented in real manufacturing situations, others are yet in development.

With the promise of more sustainable manufacturing for the future of the planet, some such strategies include:
3D printing
Also known as additive manufacturing, industrial 3D printing can help to reduce the volumes of waste material produced during the manufacturing processes of consumer goods like glasses and sunglasses frames.
Waterless dyeing
The use and consumption of water in fashion is an ongoing problem. Not only does the textile industry use a lot of water in the production process, the water it returns back to the planet is heavily chemically treated and toxic.

In a process similar to drycleaning, carbon dioxide can replace water as the agent for treating textiles. This allows for a low-viscosity type of dye and far less water waste.
Ethical and social responsibility
One issue in the fashion industry that has been top of the agenda for some time is the social impact of fast fashion, especially with the outsourcing of labour.

Unfortunately, sustainability comes with a cost, but many are willing to pay a higher price for a fairtrade product that can demonstrate a responsible supply chain. One way to ensure that your consumer products are meeting sustainability standards is to check for the fairtrade symbol to ensure that suppliers have been paid fairly. Now, other similar initiatives are emerging:
Other brands have taken a different approach to sustainability by championing a specific social cause or by partnering with a charity that addresses ethical issues globally.

Consumer brands are using strategic campaigns to make societal change, including Ben & Jerry's, which champions voter rights, LGBTQ+ issues and climate justice, Patagonia, whose CEO recently announced that all profits will be invested into social responsibility action and IKEA, which founded the IKEA Foundation to support NGOs in creating employment opportunities and address environmental issues.
Longevity and circular economy
Consumers are being urged to make more sustainable choices in the way that they care for their products. If they can do this, we can all limit the amount of household waste that we each produce.

The three R's principle of the circular economy applies here:
Reduce – Reduce waste by throwing less away, meaning buying and using only what you need to eliminate excess
Reuse – Extend the lifetime of your products by choosing reusable food and drink containers and fixing clothing/items that can be mended
Recycle – Dispose of waste products responsibly by using the appropriate recycling bins/local services
Why choose sustainable eyewear?
Once you know how the products that you buy have an impact on the planet, it's easier to identify which brands or products are better for the environment. When you look at the green credentials laid out by independent bodies and the European commission, it becomes easier to make sustainable choices – although due diligence and independent research will always be key.

By investing in sustainable eyewear choices that play an important role in the circular economy, those who need to use prescription glasses don't need to choose between responsible consumer choices and clear vision.

Fashionable options for sustainable eyewear from top brands are available to buy from online retailers like Feel Good Contacts at reasonable prices. Simply shop the sustainable glasses range online and find the prefect pair of prescription or non-prescription glasses like blue light filter glasses that look good and do good.