Guide to Biotrue Contact Lens Solutions
Biotrue contact lens solutions guarantees a healthy and comfortable contact lens wearing experience. Developed by eye care experts Bausch & Lomb, they can be used with all types of soft contact lenses including silicone hydrogel contact lenses. The Biotrue range offers high quality eye care products for even the most sensitive eyes, combined with exceptional comfort and hydration.
Biotrue features contact lenses for myopia (short-sightedness), hyperopia (long-sightedness), presbyopia and astigmatism. You'll be sure of fresh eyes as the days go on with Biotrue ONEday contact lenses, ideal for the working professional or anyone susceptible to dry eyes.
Biotrue Multi-Purpose Solution
Biotrue Multi-Purpose Solution uses the same lubricant found in our eyes to offer long-lasting moisture for up to 20 hours. Whilst maintaining the eye's natural state by matching the pH of healthy tears. Not only is the solution designed to clean and disinfect your contact lenses, they keep certain beneficial tear proteins active to cleanse the lenses during wear. Biotrue Multi-Purpose Solution is available in both Twin Pack and Flight Pack to accommodate to your needs. So, whether you're looking to stock up and save more, or after a travel edition to take with you away – Biotrue contact lens solution has everything you need.
Biotrue ONEday contact lenses
Biotrue are renowned for their incredible long-lasting comfort which can be found in their contact lenses. Biotrue ONEday contact lenses offer a "no lens" feeling because they are that comfortable and natural to wear. These lenses are perfect for anyone with a busy schedule, used to late nights and early starts. Their popular range includes a 90 Pack edition, Biotrue ONEday for Presbyopia and Biotrue ONEday for Astigmatism.
How does Biotrue compare?
Biotrue vs ReNu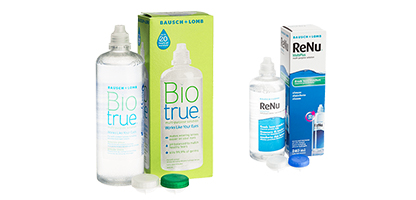 Bausch & Lomb were the first manufacturers to provide an all-in-one solution and are creators of both Biotrue and ReNu. Both multi-purpose solutions are designed to keep your contact lenses effectively clean as Biotrue has a dual disinfection system, compared to ReNu which has a triple disinfection system.
Biotrue contact lens solution are more advance in that they deliver an even longer contact lens wear of moisture and hydration. And, bio-inspired to work like your eyes, making Biotrue contact lens solutions a popular choice amongst contact lens wearers. However, both solutions are made with gentle formulas, so they are suitable for sensitive eyes.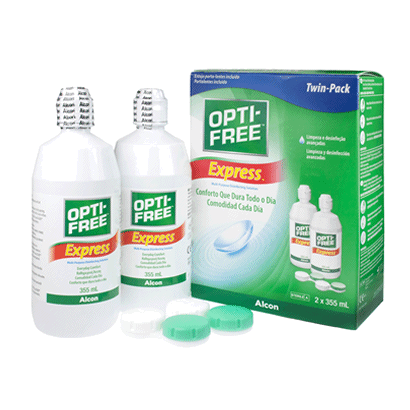 Biotrue contact lens solution and Alcon & Ciba Vision's Opti-Free contact lens solution are both effective and high-quality cleaning solutions much like ReNu. However, Opti-Free is available in three different types of multi-purpose solutions. Their unique contact lens solutions are designed to cater to individual needs, whether you're after enhanced comfort or powerful disinfection.
Otherwise, users of Biotrue have found the solution better value for money compared to Opti-Free and appreciate it's clear packaging to show how much contact lens solution they have left.
Biotrue vs comfi All-in-One Solution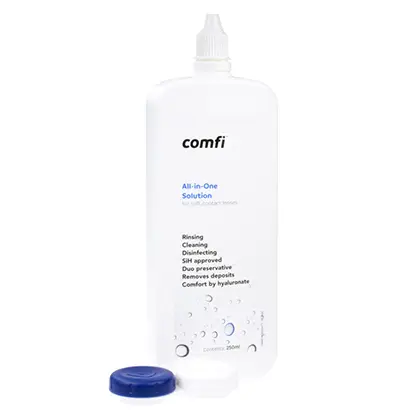 comfi All-in-One Solution much like Biotrue offers an all-in-one solution to clean your contact lenses. They are both suitable for sensitive eyes and beneficial for those who suffer from dry eyes. However, comfi offers a more affordable range and more content in its pack sizes. Without compromising on quality or comfort, comfi Solution is considered more advanced and better for your money.
We always recommend speaking to an eye care professional before trying a new contact lens or solution, to ensure they are suitable for your eyes.