The Eye Doctor Lid Cleanser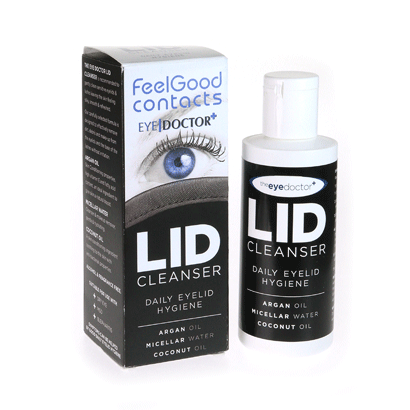 The Eye Doctor Lid Cleanser Benefits & Features
Removes dirt, debris and eye make-up
Softens with argan and coconut oils
No alcohol or fragrance
Helps prevent dry eye, MGD (Meibomian Gland Dysfunction) and blepharitis
100ml
Recommended For
Sensitive eyes
Those who suffer from dry eye, MGD (Meibomian Gland Dysfunction) and blepharitis
Those after a gentle eye make-up remover
Product Description
The Eye Doctor Lid Cleanser is the perfect addition to your daily eyelid hygiene routine to remove dirt, debris and eye make-up. Made from a gentle formula, the eyelid cleanser is suitable for even the most sensitive eyes.
What does The Eye Doctor Lid Cleanser do?
This gentle and carefully selected formula uses argan oil, micellar water, and coconut oil, making an amazing cleanser for a natural and effective clean. Argan oil offers high vitamin E to give your skin a natural boost, whilst the micellar water helps remove eye make-up and coconut oil leaves your skin feeling hydrated. With sensitive eyes in mind, the cleanser is even alcohol and fragrance free.
The Eye Doctor Lid Cleanser is available in a travel friendly 100ml pack size, perfect to take with you on-the-go.
Medical Broadcaster, Dr Hilary Jones and Specialty Doctor in Ophthalmology, Dr Colin Parsloe both recommend this exceptional cleanser. For more eye care products, browse our extensive range from The Body Doctor.
Need more optical advice help? Ask our optical experts
Product Details
| | |
| --- | --- |
| Manufacturer | The Body Doctor |
| Brand | The Eye Doctor |
| Ingredients | Aqua (Water), Coconut Oil Glycereth-8 Esters, Argan Oil Glycereth-8 Esters, Hexylene Glycol, Butylene Glycol, Polyglyceryl-4 Caprate, Hydroxyace-tophenone, Polysorbate 20, Coco-Glucoside, Phenoxyethanol, Chlorphenesin, Panthenol, Citric Acid, Ethylhexylglycerin. |
| Pack Size | 100ml bottle |
Cautions
Do not use this eyelid cleanser if you are allergic to any ingredient in this product.
For Use
Make sure you thoroughly wash and dry your hands before completing these steps.
Apply The Eye Doctor Lid Cleanser to a cotton pad.
Keeping your eyes closed, apply the pad to your eyelids and eyelashes.
Gently massage your eyelids to remove all the debris.
Repeat the steps for your other eye and use twice a day or as and when required.
See the label at the back of the bottle for full instructions and important safety information.
Frequently Asked Questions
What is the best eyelid cleanser?
The Eye Doctor Lid Cleanser is the best eyelid cleanser for sensitive eyes, to help gently remove any dirt, debris or eye make-up on your eyelids.
Product Summary
The Eye Doctor Lid Cleanser is designed to gently clean sensitive eyes and remove dirt, debris, and make-up.
In Stock
Estimated Delivery
Tomorrow
Order within
19hrs 57mins

The Eye Doctor Lid Cleanser Reviews
(3)
I use this after I have removed my eye make up with my usual cleanser. The lid cleanser removes the residue that is left and keeps my eyes healthy.

Betty Wright

-

04 Jan 2023

have not yet used eyelid cleanser, but ordering and delivery excellent

Jean Williams

-

22 Feb 2022

I have been using this product for over a year ow. I suffer from blepharitis and found the usual perhaps better known - and more expensive - cleaner to be too abrasive for me, leaving the very delicate skin around the eye sore and a bit inflamed. This is much more gentle and is doing a very good job: eyelids are now less swollen, red and itchy, in fact feel almost back to normal but I shall continue use.