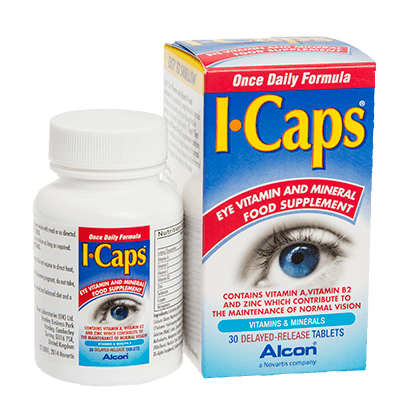 ICaps Tablets Benefits & Features
Dietary supplement for healthy eyes
Contains antioxidants, vitamins (A,B and E) and minerals
Unique delayed release formula
30 tablets for a monthly supply
Recommended For
Those who require a multivitamin tablet for eye health
Those who want to maintain excellent ocular health
Those after an easy way to incorporate essential vitamins into their diet
Product Description
Maintain healthy eyes with ICaps Tablets, from leading eye care manufacturer Alcon & Ciba Vision. Designed with vitamins and minerals, this is an effective ocular dietary supplement.
One ICaps Tablet contains a daily dose of zeaxanthin and lutein, nutrients which protect against the onset of macular degeneration and cataracts. In addition, these eye care supplements offer an intake of vitamin A, C and E, as well as zinc, which promote all-round health.
ICaps Tablets Directions
For use, each tablet should be taken with food, ideally after breakfast or lunch. Taking care of your eyes and ensuring they're in good health comes down to a variety of factors, including nutrition. With ICaps Tablets, you can offer a boost to your eye health with just one tablet a day.
For all our other eye care products, browse our extensive range at Feel Good Contacts. For any questions, please don't hesitate to contact our dedicated customer service team for any assistance.
Need more optical advice help? Ask our optical experts
Product Details
| | |
| --- | --- |
| Manufacturer | Alcon & Ciba Vision |
| Brand | ICaps |
| Ingredients | (Anticaking agents: Dicalcium Phosphate, Microcrystalline Cellulose, Polydextrose, Silicon Dioxide, Calcium Silicate, Magnesium Stearate, Talc, Acacia), Vitamin C (L-Ascorbic Acid), Sucrose, (Thickener: Hypromellose), Zinc Acetate, Vitamin E (D-Alpha-Tocopheryl Acetate), Starch (Corn), Gelatin, Lutein/Zeaxanthin, (Colour: Titanium Dioxide), Rosemary, Maltodextrin, Manganese Sulphate, Cupric Citrate, Vitamin B2 (Riboflavin), Vitamin A (Retinyl Acetate), Sodium Chloride, (Antioxidant: DL-Aplha-Tocopherol), Sodium Sulphate, Sodium Selenate, (Glazing Agent: Carnauba Wax). |
| Pack Size | 30 x tablets |
Cautions
If you are pregnant, likely to become pregnant or allergic to any ingredient in this product, do not take, except on the advice of a doctor.
For Use
One tablet per day, swallowed whole with food, ideally after breakfast or lunch.
See the label at the back of the bottle for full instructions and important safety information.
Frequently Asked Questions
What are ICaps used for?
ICaps Tablets is a multivitamin designed to maintain ocular health.
Are ICaps discontinued?
ICaps have not been discontinued and can be purchased at Feel Good Contacts.
Product Summary
ICaps Tablets is a perfectly formulated multivitamin supplement designed to improve eye health.
In Stock
Estimated Delivery
Tomorrow