What does axis mean on my prescription?
Medically reviewed by Alastair Lockwood on 11 December 2020
The axis figure on prescription contact lenses is for people who have astigmatism. It indicates the required location of cylindrical power on the lens. This determines the angle of vision correction that someone with astigmatism would need due to the irregular curvature of their eye, which can be described as shaped like a rugby ball.
Typically, the axis on an eye prescription can be between 1 and 180. Ninety means that the cylindrical power is positioned vertically to correct your astigmatism, whereas 180 would suggest it is positioned horizontally.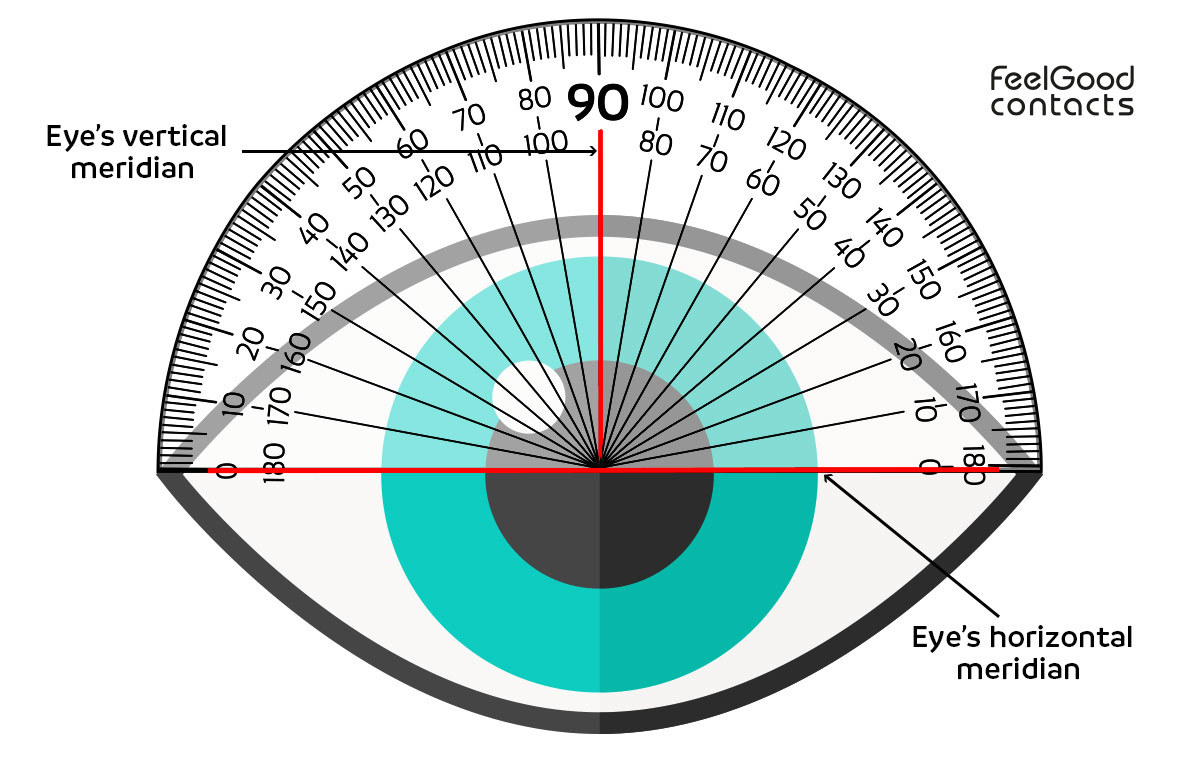 Please note that the eye axis numbers only describe the position of astigmatism and not the power of your prescription.
What is normal eye axis in eye prescription?
There is no such thing as a normal eye axis because astigmatism can be anything as the eyeball is not round. For instance, there is no axis if someone has a sphere (round-shaped) eye.
Is astigmatism 180 axis bad?
An axis of 180 degrees means that the astigmatism is horizontal. Hence, the patient is moderately near-sighted with a slight degree of horizontal astigmatism.
What does CYL or cylinder mean on my prescription?
The CYL or the cylinder number on a contact lens prescription indicates the extra power required at the axis to correct the vision of an irregularly curved eye. This number is also necessary for those with astigmatism.
The figure can be plus (for long-sightedness) or minus (for short-sightedness) and is always given alongside the usual spherical power on a contact lens prescription.
Please note: Those without astigmatism won't find any figures written in their prescription's cylinder or axis columns.
What does SPH or sphere mean on my prescription?
The sphere indicates the strength of the lens prescribed to correct long-sighted and short-sighted vision. It is measured in dioptres.
If the SPH number has a minus sign, this means you are near-sighted, whereas a plus sign indicates that you are farsighted.
If you are neither long-sighted nor short-sighted, you may find the infinity symbol or the word Plano written in the sphere column of your prescription. These are equal to zero.
What is the normal eye SPH, CYL, and Axis value?
Normal eyes would typically have about 0.50 dioptres of negative cylinder or cyl power at an axis number of 180.
Typically, most people have between 0.5 to 0.75 dioptres of astigmatism and won't need contact lenses or glasses to see clearly. Those with astigmatism will have a dioptric power of 1.5 and above.
The axis number becomes irrelevant for those with a dioptre cylinder power of 0.00. A "perfect" eye with no astigmatism has a dioptric sphere power and cylinder power of 0.00.
What does it mean when your eye test says 0.50 in each eye?
A 0.50 measurement is extremely mild, whether the sphere, cylinder or axis figure. If found in the cylinder or axis, this indicates a mild correction for astigmatism.
The larger the measurement, the higher the correction needed.
Are toric contact lenses the best for astigmatism?
Toric contact lenses are, quite simply, contact lenses that have been specially designed to offer astigmatic correction. Your toric contacts will include a cylinder and axis, which will both be provided on the packaging and on your contact lens prescription.
Quick links:
A guide to astigmatism
How do toric contact lenses work?
How to read my contact lens prescription