How to travel with contact lenses
Medically reviewed by Tina Patel on 23rd June 2023.
Remembering to bring all of your day-to-day essentials when travelling can be stressful, especially if you wear contact lenses. Packing all the items you need to care for your lenses is vital to ensure you maintain a good eye care routine.
Tips for travelling with contact lenses
Prepare
As long as you take time to prepare, travelling with contact lenses should be no problem at all. Make sure you remember to pack what you need to provide sufficient care for your lenses and remember to follow your optician's wearing schedule.
We recommend keeping a prescription with you wherever you go to ensure you are prepared for the worst-case scenario. Most countries only allow you to buy contact lenses with a prescription. While eye tests are available abroad, this can be expensive and more importantly, time-consuming. You can take a picture of your contact lens prescription on your smartphone to ensure that you always have a copy with you.
If you haven't been prescribed extended wear lenses and are flying overnight, you must remove your lenses and store them in contact lens solution before sleeping. Your lens solution should be no more than 100ml to meet the Transport Security Administration rules. Never store your lenses in tap water as this can lead to infection.
Buy a contact lens travel pack
As bottles containing more than 100ml are prohibited, we advise that you take a travel pack with you. Fortunately, you can buy most solutions in supplies of 100ml or less. Therefore, you'll have no problem taking them abroad with you even when you're travelling through an airport.
You can buy travel pack solutions and travel essentials to suit a wide range of contact lens needs. Our comfi All-in-One Solution Travel Pack is a great choice of multi-purpose contact lens solution.
Try comfi All-in-One Solution Travel Pack
The comfi All-in-One Solution Travel Pack will fit easily into your hand luggage so that you can clean, disinfect, and store your lenses wherever you go. Featuring a gentle formula suitable for dry and sensitive eyes, this all-in-one solution is ideal for two weekly or monthly contact lens wearers going on holiday and even comes with a contact lens case.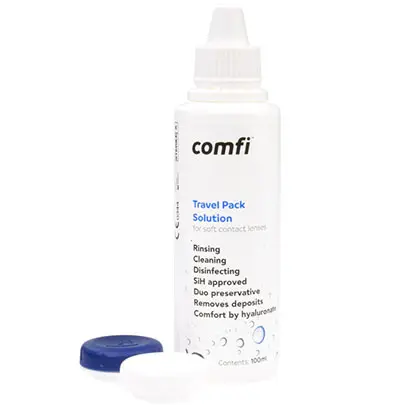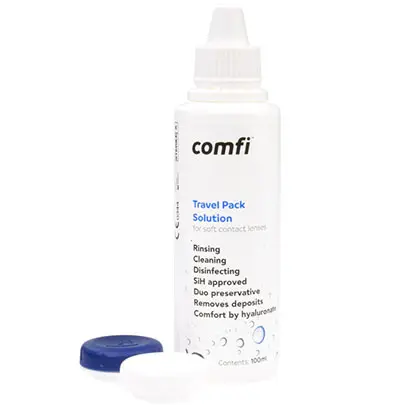 It is advised that you take enough solution with you just in case you run out and cannot find the same solution abroad. It's not advised to change solutions as you can end up having an allergic reaction due to the different ingredients. We recommend taking glasses with you too as a backup.
You can also find many other handy accessories when you shop our Travel Essentials. Eye drops, such as our comfi Soothe Drops will ensure that your eyes don't dry out due to drastic temperature changes. Our Eye Doctor Lid Wipes are also handy when travelling. They are easy to carry and will help you maintain hygiene by gently removing debris from the eyelid.
How can I look after my contact lenses while on holiday?
Many people prefer to switch to daily disposables for the short time they're on holiday. However, if you'd like to wear your monthly or two weekly contact lenses, here are a few helpful tips.
Be strategic
It's sometimes a good idea to leave your contact lens case by your bedside to remind yourself to remove your lenses even if you're going to bed late
Bring a small supply of solution with you when you're out for the day, just in case you need to thoroughly clean your lenses while you're away from the apartment
Take a spare pair of lenses just in case you lose or damage one
Protect your eyes
Make sure you wear sunglasses if you plan on travelling to a sunny destination. At Feel Good Contacts we only stock sunglasses which have 100% UV protection in the lenses. Wearing these will help you to avoid eye damage from harmful rays.
Wear Daily Lenses
Typically, if you wear two weekly contact lenses or monthly contact lenses, you'll find that switching to daily contact lenses whilst on holiday a much more convenient option. Travelling in the early hours, spending time in the sea, going to bed late and deviating from your usual routine can make wearing daily disposables a more sensible option. It will certainly take the hassle out of a lens cleaning and storing routine.
Avoid swimming with contact lenses
If you plan on being by the pool or spending time on the beach, remember to remove your contact lenses. You should avoid swimming with contact lenses at all costs. Bacteria and single-cell organisms (acanthamoeba) in the water can interfere with your contact lenses, causing a range of potentially dangerous eye infections.
It is best to wear prescription goggles instead of contact lenses when swimming. These will correct your vision and protect you from infections such as Acanthamoeba Keratitis. In addition to this, water can cause contact lenses to dislodge, resulting in a high level of discomfort.
Can I take my contact lenses on a plane?
You can take contact lenses and solution in your carry-on bag; however, you must take the right precautions. Contact solution is essential as contact lens wearers will find a reduced pressure change inside the aeroplane, which reduces the oxygen and humidity and makes the air dry. If you find that your eyes become dry as a result, you can use eye drops to lubricate them.
Should I wear contacts on the plane?
It is usually recommended that you remove your contact lenses on the plane if you are on a long-haul flight. The air within the aircraft is very dry, which can dehydrate the eye, making the contact lenses feel uncomfortable. If you are on a short-haul flight, you can opt to leave them on but have your glasses with you just incase.
Not only will the dry air inside the cabin dry your eyes out, but you may also even want to take a nap. Unless you have been prescribed extended wear lenses, you will have to remove your contacts before you fall asleep.
If you decide to wear contact lenses on the plane, take some rewetting drops with you to help relieve dry eyes. It is also advised to drink plenty of water to keep as hydrated as possible.
Opting for contact lenses which are designed to retain moisture is also recommended. Acuvue Oasys lenses, created by Johnson & Johnson, use silicone hydrogel technology to prevent your eyes from drying out. If you're looking for a toric lens, you can opt for Acuvue Oasys for Astigmatism.
Our comfi Purest 1 Day contact lenses are also made from a silicone hydrogel material and are a great choice of daily disposable contact lenses for travelling in.
If you're travelling in contact lenses, it is best to choose a lens that retains moisture more easily. Our contact lenses for dry eyes will certainly do this.
Can we carry a lens solution in a domestic flight?
Current UK airport hand luggage regulations require that only liquids under 100ml in volume are to be brought onto an aircraft. Liquids over this amount will be allowed in your checked-in baggage, but they'll be confiscated if you attempt to carry them via hand luggage.
Is it safe to use a travel bottle for contact lens solution?
Using a solution from a travel bottle is fine. However, you should never transfer solution to a smaller bottle yourself. Doing this can risk contaminating the solution which has been prepared under sterile conditions.
Quick links:
Can I swim with contact lenses?
How to clean a contact lens case
What are daily disposable contact lenses?