Prescription and non-prescription glasses can use tinted lenses for a functional finish, but they can also be incredibly stylish. Made famous in films and as part of iconic fashion trends, lens tints do more than just add a bit of colour to your glasses frames.
What are tinted glasses?
Tinted glasses use a type of lens that is pigmented rather than completely transparent. They are primarily designed to ease visual discomfort in bright lighting conditions but they are also important to protect eyes from the damaging effects of direct sunlight. Tinted glasses help to correct and protect vision but can also be used as a stylish, fun alternative to your usual eyewear choices.
As well as providing protection from sunlight and bright lighting, tinted prescription glasses correct vision based on your existing prescription. Different to sunglasses, when purchasing any glasses frame you may choose to add a tint to the lenses. There are a variety of different tints to choose from, with options ranging in tint type, colour and intensity.
A lens tint for glasses will alter the way that you see colour and contrast around you, but tinted lenses can offer several additional benefits that help improve performance or promote vision comfort on a day-to-day basis.
What are the benefits of tinted glasses?
1. What do tinted glasses do?
Many of the tinted glasses available today serve different purposes beyond UV protection, some of which can even help with everyday tasks such as working, exercising or driving. Some fashion tints do not necessarily aid vision problems but are popular choices for those who want to express their personal style.
Sometimes it can be beneficial to add a tint to your regular prescription glasses lenses as an additional feature that can help with everyday vision.
2. Can you get tinted glasses with a prescription?
Any glasses frame is available with a tinted lens option. This means that you can upgrade any glasses frame to make them tinted prescription glasses.
Whether you have a prescription for myopia (near vision), hyperopia (far vision), presbyopia (difficulty with near and far vision), astigmatism (blurred vision), or anything else, you can add a tint to your regular lenses easily and affordably.
3. What colour lens tint for glasses is best?
The best lens tint for glasses will depend entirely on your personal needs and lifestyle. Each tint option for sunglasses has been designed to address a different issue, so not every tint or type of lens will always be appropriate for every environment.
You may choose the colour of the tint you want based on how they look or what they offer in terms of vision correction. There are lots of options available, so it's important to shop around to make sure you choose the right lens tint for you and the purpose you have for the glasses (e.g. sport, work, fashion).
Performance enhancing glasses models from brands like Oakley and Ray-Ban are ideal for outdoor sports and activities, but can be made even more suitable with an appropriate lens tint that is fit for purpose. However, when it comes to fashion lens tints the best tint for your needs will depend on personal style and the glasses frame you have selected.
You can use a tinted lens to turn any standard glasses frame into designer dupe sunglasses. Options include:
Full tint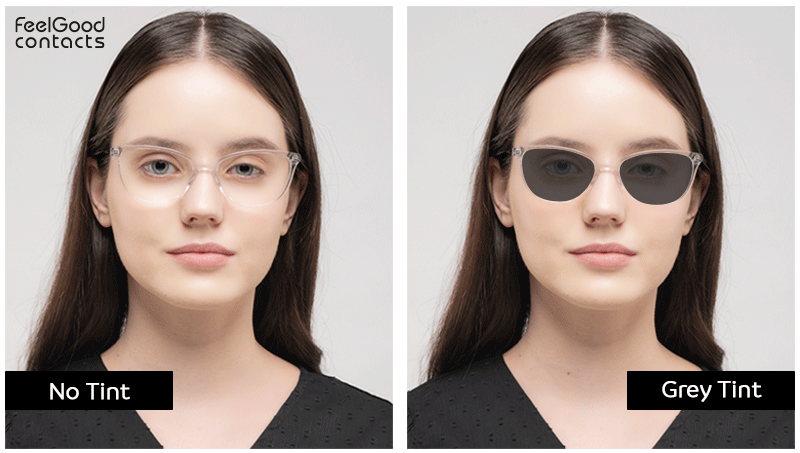 Gradient tint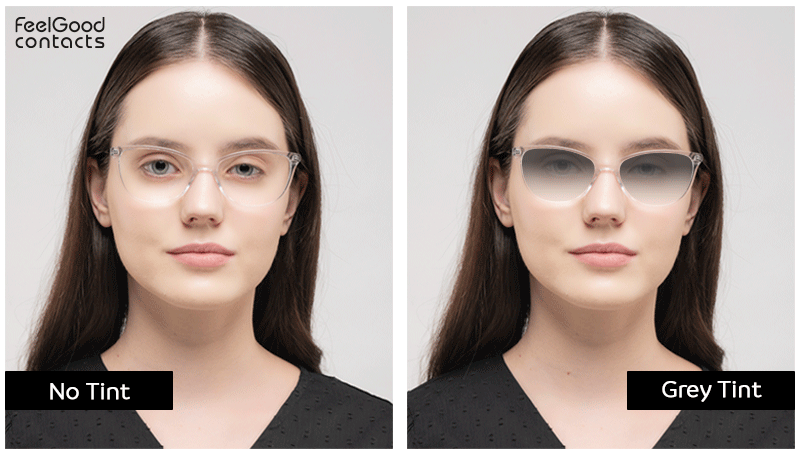 Mirror tint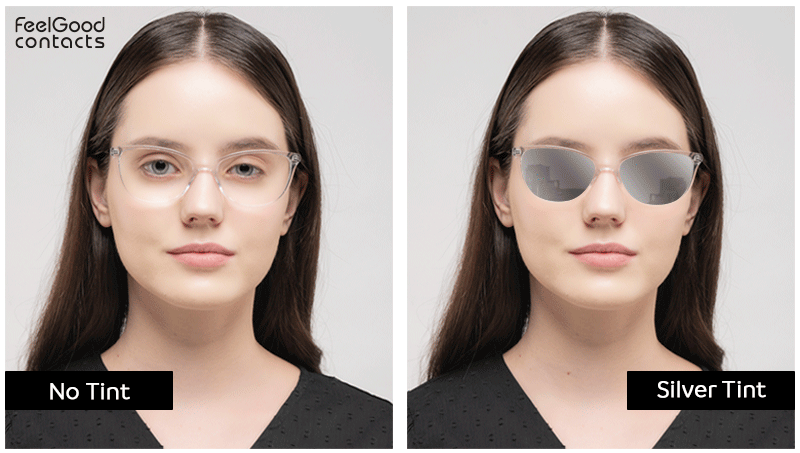 Polarised tint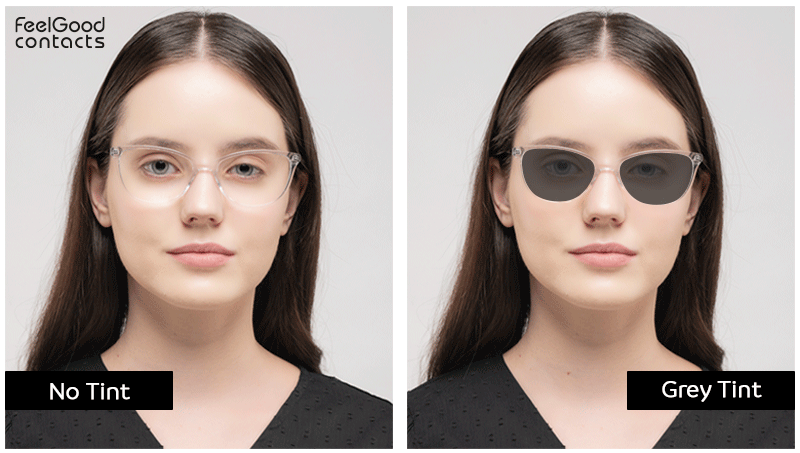 Do tinted lens glasses stop UV rays?
Most tinted lens glasses stop harmful UV rays from the sun, but not all tinted lenses are as effective as others. Lenses which offer UV 400 protection will offer the best response to protect your eyes from 100% of the UVA and UVB rays they are exposed to.
The sun transmits UVA and UVB rays, both of which are harmful to the eyes over long periods of exposure. Over time, harsh UVA and UVB rays can contribute to aging of the eyes and long-term degeneration defects such as cataracts and macular degeneration.
Depending on the light transmission factor (LTF) which indicates the darkness of the lens, tinted lenses can offer an appropriate solution for harsh to milder light conditions. LTF specifications are divided into five categories, ranging from 0 with a high LTF (clear or light tint) to 4 with a lower LTF (very dark tint).
Lens tint options with a higher LTF will provide more visual comfort in brighter conditions. However, while LTF indicates the darkness of the lenses, there is no direct correlation between UV protection and tint darkness. Even clear glasses with a UV filter coating can offer a very good degree of UV protection from the sun.
Do tinted glasses protect your eyes?
While tinted glasses are often effective at blocking UV rays from the sun, there are other factors that tinted glasses are very good at addressing as well. Depending on the type of tint that you choose, tinted glasses can help to protect your eyes from strain-induced aches, retinal damage, glare from the sun as well as other more specific vision conditions.
Wider glasses frames like those offered by Tommy Hilfiger will provide the widest range of peripheral protection.
However, tinted glasses are not a fix-all for everything and they will not be able to protect your eyes from infections or lifestyle-related dangers such as smoking, poor hygiene practices or an unbalanced diet.
It is important to adopt and maintain a healthy eye care routine and have regular eye health check-ups with your optician or GP.
Do tinted glasses help with migraines?
People who suffer from migraines can commonly experience photophobia, a condition where sufferers experience excessive sensitivity to light. This sensitivity can cause discomfort, and at other times intense pain alongside other symptoms. These reactions can sometimes appear in response to both artificial and natural light and can occur during migraine attacks as well as between migraines. Tinted glasses are effective at easing visual discomfort during light sensitivity, and they are a cheap, easy and healthy solution to this problem.
Meanwhile, as photosensitivity is only one symptom of migraine, this will not solve the entire affliction. While it may help with the problem in the short term, it is important to consult your GP if the problem persists as frequent migraines can be a symptom of other health issues.
Do tinted glasses help with computer eye strain?
A lens tint for your glasses is not the best solution available to tackle eye strain from computer use or from excessive use of other digital devices. The main reason why your eyes can feel sore from using digital devices with screens, such as smartphones, tablets, televisions or computers is a type of artificial light known as blue light.
Blue light filter coatings are the best option for reducing the impact of blue light from screens over long periods or frequent use. This clear coating usually has a slight yellow tint or hue. It is available as an additional option that is suitable for any non-prescription or prescription glasses frame and will not have any direct impact to vision.
Are tinted glasses good for night driving?
Tinted glasses are usually not recommended for night driving as they tend to reduce contrast under low lighting conditions and make it difficult to see through a windscreen. However, some specialist tints for non-prescription and prescription glasses can help to improve visibility while driving at night.
Polarised lens tints reduce glare from reflected horizontal surfaces such as beams from headlights on wet roads or car hoods. When light is reflected on shiny horizontal surfaces, it can dazzle drivers and become hazardous to drivers on the road. Polarised lenses limit the impact of glare from horizontal light, which can be safer.
How do I add a tint to my glasses?
Once you have selected men's glasses, women's glasses or a unisex frame that suits you, provide your prescription details and decide which type of tint meets your requirements, you can select a tinted lens as a final step before proceeding to payment.
Your optician or eyecare specialist will be able to go through the options with you to help you decide which tinted lens option might be best for you. If you know what you want it is easier and even faster to buy online using the Feel Good Contacts self-service checkout.
Quick links:
Glasses lens coatings guide
What are the best lenses for my prescription?
Lens Packages