The Sun, UV Radiation and Your Eyes
Medically reviewed by Alastair Lockwood on 17 January 2022
We all enjoy our day a little bit more when the sun's out, but it's important to be aware of the UV rays that the sun emits and the danger it poses to our eyes.
What are UV Rays?
UV rays comes primarily from the sun. The sun emits a range of wavelengths known as the electromagnetic spectrum.
UV rays are not classified as visible light as you cannot see them. They sit between visible light and X-rays on the spectrum. Whilst gamma rays have the highest energy, UV rays are higher in energy than radio waves and infrared.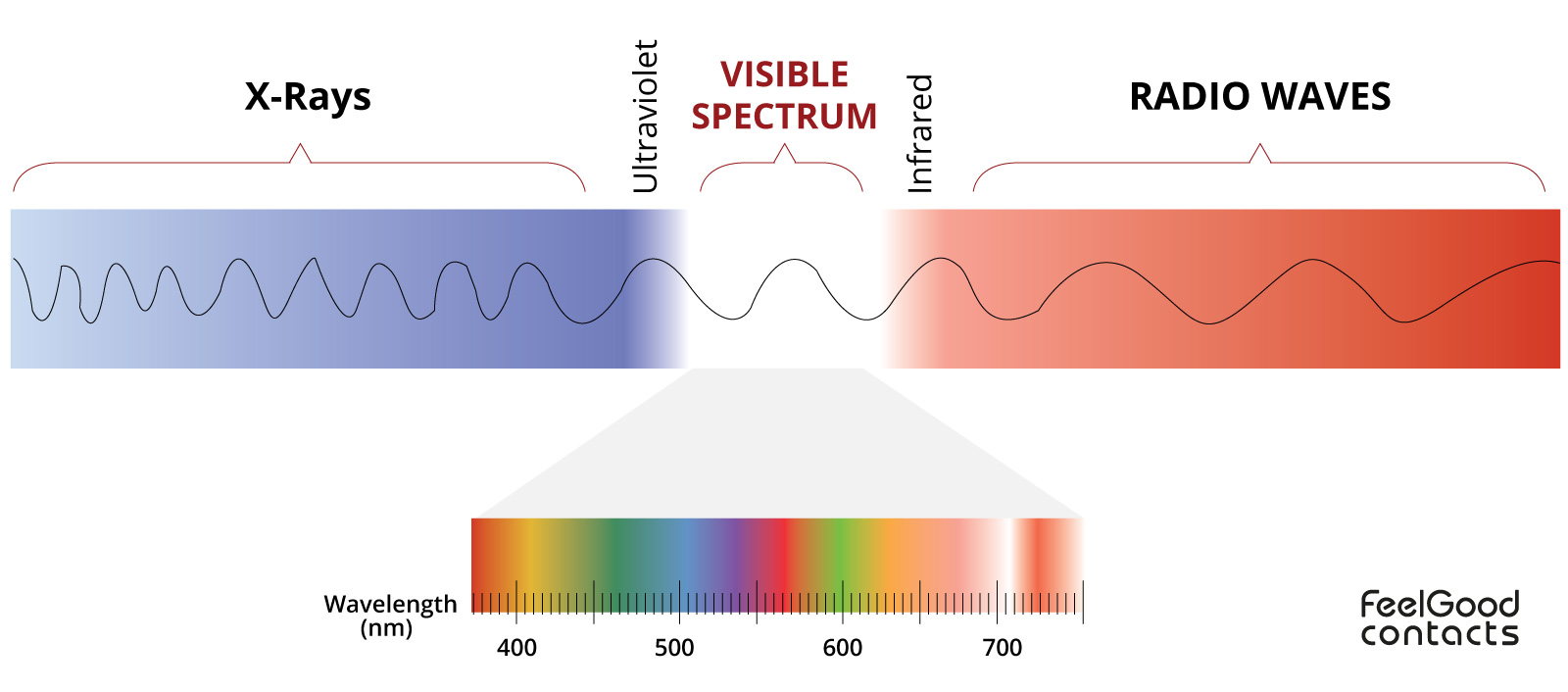 There are three types of UV rays:
UVA
UVA waves are closer to visible light rays and have lower energy than UVB and UVC rays. However, they can pass through the cornea, reaching the lens and retina inside the eye and cause various eye problems.
UVC
UVC rays have the highest energy and the potential to cause serious harm such as skin cancer and eye cancer. Whilst UVC rays are the most dangerous, the earth's atmosphere absorbs these rays before they can pose a threat to us. However, depletion of the ozone layer could mean that UVC rays reach the earth's surface and cause severe damage.
UVB
UVB waves have longer wavelengths but are lower in energy than UVC Rays. The ozone layer filters out some UVB rays; however, some still reach the earth's surface.
In low doses, UVB rays stimulate melanin production, which is what creates a suntan. In high doses, UVB rays are dangerous and can cause sunburn, skin cancer, premature ageing. They can also cause numerous eye conditions such as pinguecula, pterygium and photokeratitis. This is why it is important to consider wearing sun protection while outside.
The dangers of UV rays on the eyes

You may have grown up being told never to look directly at the sun, and rightly so, as several vision-related conditions can be caused by exposing your eyes to UV rays.
These conditions include:
Age-related Macular Degeneration (AMD)
UV rays can contribute to the onset of age-related macular degeneration, a condition where the retina becomes damaged, resulting in blurriness in the central part of your vision. This gradual loss of sight often happens as we get older. However, increased exposure to UV light can speed up the process.
Cataracts
Cataracts are clouds that form on your eye's lens, obscuring vision and your ability to focus on objects. Studies have shown that exposure to UVB rays increase the risk of cataracts forming, which require surgery to remove.
Photokeratitis
Typically caused by UVB light reflecting off snow, photokeratitis is caused by a high level of short-term exposure to the rays. Essentially, damage to the eye is caused by sunburn from this light, resulting in blurry vision or temporary sight loss.
Pterygium
Also known as 'Surfer's Eye', pterygium is a benign growth that forms on the conjunctiva of your eye as a result of UV light. Surfers are particularly at risk of developing pterygium due to the long periods they spend in the sea, with exposure to both direct and reflected UV rays.
How do I protect eyes from damaging UV rays?
Fortunately, there are a few precautions you can take to limit your eyes' exposure to UV rays and keep them safe from harm.
This is probably the most obvious one on everyone's mind but wearing UV blocking sunglasses when it's sunny out is extremely important to protect your eyes from the sun.
Wearing hats and sitting under umbrellas, particularly at the beach, is also a great way to keep your eyes safe from UV rays.
How do sunglasses protect your eyes from ultraviolet rays?
Sunglasses can protect your eyes from UV rays; however, it is essential to invest in a high-quality pair to ensure that they are effective. When shopping for a pair of sunglasses, consider the following:
Always check that your sunglasses have at least 99% UV protection and are marked with CE, which indicate their compliance with European safety regulations.
A lens with a UV coating will absorb and reflect harmful light. Opt for sunglasses with darker lenses or wrap-around frames as they offer the most protection.
Wrap-around frames offer full coverage of your eyes from angles around the lenses. Sunglasses which provide tints and mirror coatings reflect intense visible light and will prevent you from squinting.
High-quality sunglasses which provide a polarising film will prevent glare from surfaces such as water, sand and snow. These horizontal surfaces create a strong plane of light; however, polarised sunglasses prevent this by allowing vertically polarised light to pass through the lenses.
A mirror coating will deflect light and protect your eyes in even the brightest of conditions.
A scratch-resistant coating will ensure that the surface of the lenses are protected.
More tips on sunglasses and UV protection
There are further precautions you can take with sunglasses to protect your eyes from UV rays. Here are some more useful tips:
Wear your sunglasses, even in the shade
Although exposure to UV is not as high in the shade, your eyes are still exposed to harmful rays reflected from surfaces around you such as buildings.
Remember your shades all year-round
UV can still harm your eyes in the winter, especially when it snows as the snow can reflect 80% of UV rays.
Wear sunglasses on top of UV blocking contact lenses
Even if you wear contact lenses with ultraviolet UV protection. You should still wear sunglasses as UV rays can even cause damage to the areas around your eyes, such as your eyelids.
Quick links:
Why you should wear sunglasses
What are polarised sunglasses?
Guide to different types of sunglasses