How to clean and store soft lenses
Medically reviewed by Sharon Copeland on 19 January 2021
Cleaning soft lenses requires a different approach to cleaning rigid gas permeable lenses. More effort is required as they are less resistant to protein deposits and debris, making them much harder to clean. Whilst both practices avoid using water at all costs, cleaning soft contact lenses involves more steps in the process to ensure safe wear afterwards.
How to take care of soft contacts
A thorough contact lens care regime will ensure your eyes are kept healthy and free from eye infections. Taking care of your contacts goes beyond a thorough cleaning regime and includes taking certain measures and precautions in your day to day routine.
For example, you should always remove your contact lenses before doing anything where water might come into contact with your eyes, such as showering, having a bath, using saunas/hot tubs or swimming. You should keep your contact lens case clean and make sure you replace it every 3 months. You should never wear your lenses if they've been stored for longer than 30 days without being disinfected.
In addition to this, you should visit an eye care professional regularly to make sure you always have the right contact lens prescription for your lifestyle and that your contact lenses fit your eyes properly without causing any problems.
How to clean soft contact lenses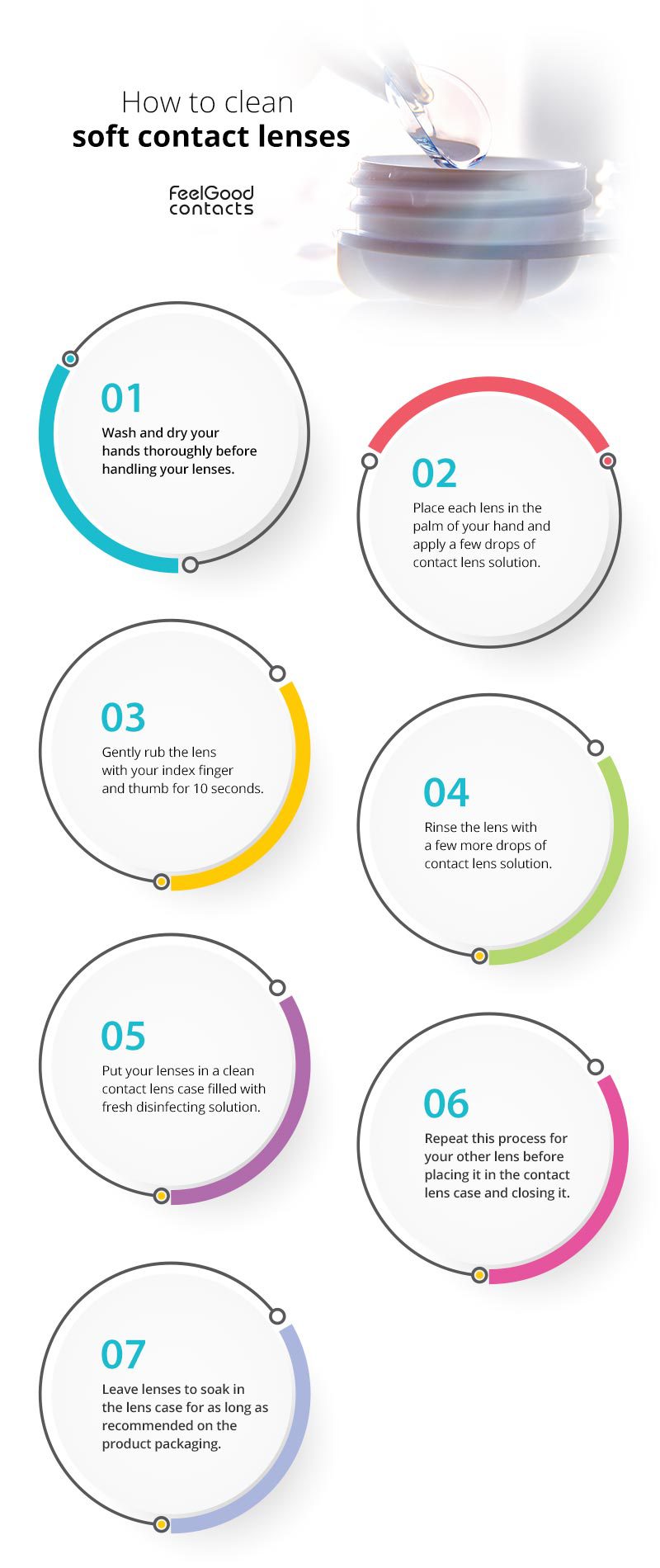 Following an effective contact lens cleaning regime is vital to preventing eye infections that may affect your health and long-term vision. By following the steps below you should be able to maintain excellent eye health and a high level of comfort when wearing your contact lenses.
Before handling your contact lenses, wash your hand thoroughly and take care to dry your hands with a lint-free towel.
One at a time, place each contact lens in the palm of your hand and apply a few drops of contact lens solution to the lens.
Gently rub the lens back and forth with your index finger and thumb to clean the surface of the lens for at least 10 seconds.
Rinse the lens with a few more drops of contact lens solution (saline solution or multi-purpose solution). Note that saline solution is not a disinfecting solution.
Disinfect your lenses by putting them in a clean contact lens case filled with fresh disinfecting solution. Never top up old solution with more.
Repeat this process for your other lens before placing it in the contact lens case and closing it.
Leave both lenses to soak in the lens holder for as long as recommended on the product packaging.
When cleaning your contact lenses, take care to put the lid back on the solution bottle as you don't want the solution to get contaminated. Also ensure you throw the solution away 28 days or two months after opening, not when the solution runs out.
Multi-purpose solutions
There are many types of solutions used in the process of cleaning soft contact lenses. A multipurpose solution such as comfi All-in-One Solution and Opti-Free PureMoist are popular choices of cleaning solution. Not only can they be used to clean your lenses, they can also be used to rinse your contacts and disinfect them.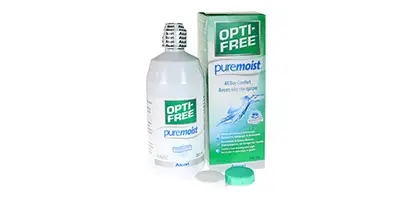 Saline solutions
Saline solutions are used purely for rinsing the lenses and doesn't disinfect them, Saline can be used to briefly store your lenses while you go shower but shouldn't be used to store your lenses long term.
Hydrogen peroxide solutions
Hydrogen peroxide solution can be used to disinfect your lenses. After disinfecting your lenses there is a neutralising step. Typically, hydrogen peroxide solutions come with a neutralising tablet that must be used to convert the hydrogen solution into water (so it doesn't sting your eyes). After disinfecting your lenses, they should be added to the lens case along with the tablet to neutralise the solution overnight. Other hydrogen peroxide solutions have a neutraliser that is built into the lens case.
You should never rinse your lenses with hydrogen peroxide solution, this will cause a painful chemical injury to the eye.
Whilst multi-purpose solution is a popular choice of contact cleaning solution, hydrogen peroxide is sometimes a better option, especially for those who develop discomfort after using multi-purpose solution.
Never clean your contact lenses with water of any kind. Both bottled and tap water contains impurities that can damage your contact lenses and cause serious eye infections.
How do you clean contact lenses for the first time?
If you're new to wearing contact lenses and you're cleaning them for the first time, make sure you follow the instructions given to you by your optician. These will be specific to your recommended lens care regime.
You should also take care to use products recommended to you and the type of lens you are wearing. Before you substitute your lens care products, consult with your optician.
Is it safe to put contact solution in your eyes?
Putting contact solution in your eyes is not recommended and you should not use contact solution to rinse out your eyes. Contact lens solution contains cleaning compounds that are designed to break down organic material which is why you should avoid using it directly on your eyes. You should certainly avoid getting hydrogen peroxide solution in your eyes as doing this can cause a painful chemical injury to your eye.
If you find that your eyes are dry and need more moisture, it is recommended to use rewetting eye drops to re-introduce moisture to the eyes, such as our comfi Drops.
Can you use hard contact lens solution for soft lenses?
Cleaning rigid gas permeable contact lenses or hard lenses requires a different regime to that of cleaning soft contact lenses. You should talk to an eye care professional regarding which care system is best for you, as cleaning and disinfecting hard contact lenses involves the use of several different solutions. Hard contact lens solution should never be used for soft contact lenses.
How to clean a daily disposable contact lens
Daily disposable lenses don't need to be cleaned as they are designed to be discarded at the end of the day.
You should never reuse your daily disposable contact lenses as they are not good at holding moisture and can therefore lead to dry and irritated eyes.
How to store contact lenses
Unless you wear daily disposables, you should store your lenses in a clean contact lens case with fresh solution. Never top up your lens case with old solution still inside and make sure you replace your lens case every three months to avoid the growth of bacteria.
Cleaning your lens case is vital and failing to do this can put your contact lenses and eyes at risk from harmful bacteria. After you have cleaned your contact lens container, set it aside face down on a clean cloth and leave it to air dry.
Although this may seem a lot, cleaning your soft contact lenses can be so simple once you get used to it. Just follow our simple steps and you'll ensure your eyes stay healthy and free from infections. If you're somebody who has a hectic schedule and find it hard to stick to an effective cleaning regime, we always recommend choosing daily disposable lenses.
Browse our range of silicone hydrogel contact lenses that are soft and comfortable for everyday wear
Quick links:
How to clean a contact lens case
How to look after your lenses
Which contact lens solution do I need?