In the way that you would visit your local GP for an illness or health concern, it's equally important to see an optician or eye care specialist if you are experiencing any problems with your vision or general eye area.
Not just this, but it is vital to go for routine
eye tests
even if you aren't experiencing issues with your eyesight or have been using precision lenses like the
Oasys Acuvue
. For adults aged under 40 years old, it is recommended to see an optician around two or three times a year or once every one or two years for school-children with no risk factors.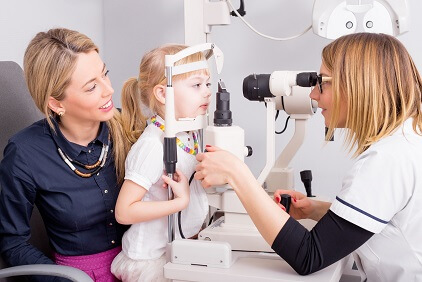 However, if you have health problems such as diabetes, high blood pressure or work in a visually-demanding job, you should visit an eye-care specialist more frequently. Your doctor will recommend how often you should visit.
So what actually happens in an eye test?
Symptoms
At the start of your examination, your optometrist will ask for the reason of your visit. Here you should explain the problems - if any - that you are experiencing with your eyes, or whether you are simply there for a routine check-up.
Eye examination
The optometrist will examine your eyes both inside and outside. This requires you to keep your eyes open and still, in order for a thorough examination to be performed.
A special torch, called an ophthalmoscope, will be shone into your eye through the pupil to examine its interior. This enables the optometrist to study the internal structures of the eye in detail and test your pupil reflexes.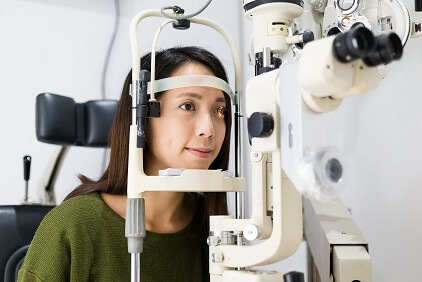 If you require a contact lens fitting, an extra test will be carried out for this.
Vision
Remember to take your contact lenses with you during your eye test, since your vision will be checked with and without them in. Three types of vision - distance, near and intermediate - will be assessed and the optometrist will perform a series of tests to measure the type and extent of any problem with your vision.
You will be given a choice of two different lenses and the eye specialist will ask you to choose the one that enhances the quality and clarity your vision.
After the eye test
Once the eye test is complete, your optometrist will explain their findings and observations, detailing any special requirements that you may have. This is when you can ask any questions and discuss the best form of vision correction to suit your needs and lifestyle.
Your optometrist will also provide you with a date for your next eye test and may refer you to your doctor or hospital if you require medical attention.