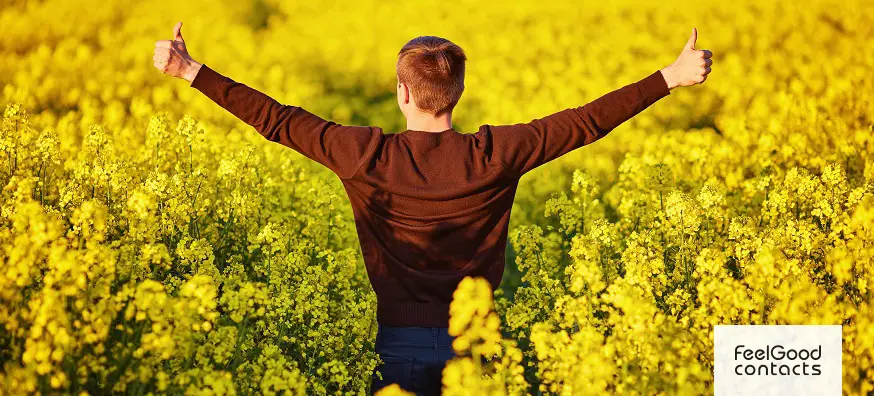 How Long Does Hay Fever Last?
Your hay fever symptoms will last as long as you are exposed to the allergen that causes the reaction. Tree pollen allergies usually start from February to June, weed pollen is from June to September, and grass pollen is from May to July.
Products to Fight Hay Fever
Below are our top product suggestions to help you minimise the uncomfortable symptoms of hay fever:
Switch from Monthlies to Dailies:
If you are a contact lens wearer, symptoms can worsen as pollen can get trapped under the lens. Switching to daily disposable contact lenses during the hay fever season can help to minimise symptoms of itchy eyes. We recommend comfi Daily Disposable, which offers excellent value for money without compromising on comfort and quality.
Wear wrap-style sunglasses:
Sunglasses are essential as they protect your eyes from UV rays. Wrap-style frames are especially good for allergies because they cover the eyes as well as the surrounding areas. They act as a barrier between floating allergens in the air and your eyes. Feel Good Contacts stocks an incredible range of designer sunglasses. From ultra-modern shades to more classic silhouettes, there's a style to suit everyone. We highly recommend O'Neill ONS Barrel 122P Matte Tortoise, stylish tortoise print shades with green lenses that protect your eyes from damaging UV rays as well as pollen.
Use Optase Allergy Drops:
Perfect for providing relief for dry, itchy, and irritated eyes, Optase Allergy Drops come as individual doses that are convenient for keeping in your bag. You can use them as often as needed throughout the day and even while wearing your contact lenses.
Other ways to fight hay fever
In addition to the above products, there are some other things you can do to make allergy season more bearable:
Nasal sprays: Dispersed into the nasal passage to help relieve congestion

Put Vaseline inside your nostrils: Lining the inside of your nose with a thin layer of Vaseline will trap the pollen

Antihistamine tablets: Taking antihistamine tablets daily can significantly improve symptoms

Pocket tissues: Essential for hay fever sufferers to manage a blocked nose on-the-go

Stay indoors: Limiting your time outside will limit your exposure to allergens

Dry your clothes inside: Leaving your clothes to dry outside will cause pollen to settle on your garments, triggering your allergies once you put those clothes on

Keep doors and windows closed: Limit your exposure to pollen by relying on fans for a breeze

Spring has finally arrived, and with the right products and tips, you can enjoy it to the fullest with zero hassle. For more information on hay fever, visit our website or speak to one of our experts today.