Ray-Ban was founded by the American company Bausch & Lomb in 1936 and since then has become a household name best known for its Wayfarer and Aviator models. In 1999, Ray-Ban was acquired by Luxottica Group.

With this brand being a popular choice for sunglasses, it's no surprise that many unreliable retailers are trying to pass off fake Ray-Bans as the genuine product. Fear not, there are ways to tell whether your Ray-Bans are real or fake.

Read our guide on how to spot fake Ray-Bans to ensure that you don't fall into the trap and find out how to tell if Ray-Bans are real.
How to tell if real Ray-Bans are fake?
If you're wondering how to tell if Ray-Bans are real, the following factors will help to answer your question and determine real Ray-Bans from fake Ray-Bans.

Quality

Hand made in Italy, genuine Ray-Bans are of exceptional quality and are crafted from high quality materials. From the finish around the hinges to the weight of the material, you'll be able to tell whether Ray-Bans are genuine or not based on these top-quality details. Models like the Wayfarer are produced from a mould and cut from a block of acetate before being polished by hand. The acetate material is smooth and seamless proving its quality.

You can test this by running your finger along the arms of the glasses frames. If the arms of the glasses frames feel jagged or rough, the Ray-Bans might be fake.

Lenses

The lenses of Ray-Ban sunglasses are of a superior quality too. Glass material lenses are featured on most of the models. However, some of the more recent designs feature other materials instead.

Real Ray-Bans will have "RB" and the Ray-Ban logo etched on the lenses. Ray-Ban polarised lenses will have "Ray-Ban P" etched on the top corner of the lens.

If this is missing, they are almost guaranteed to be fake Ray-Bans. Genuine Ray-Ban lenses also do not scratch as easily as fakes which often use cheap coating or coloured film.

Hinges

The hinges of original Ray-Ban sunglasses will also be of good quality. They will be made of solid metal and securely bolted to the frame of the glasses with two metal rivets on the front and two at the side.

Poor quality hinges on fake models won't be as neatly fixed onto the frame and may even show traces of glue or melted plastic.

Nose Pads

Real deal Ray-Ban sunglasses with metal frames feature plastic nose pads with the Ray-Ban logo embossed in the centre. The nose pads on metal Ray-Bans will either be transparent or a light peach colour.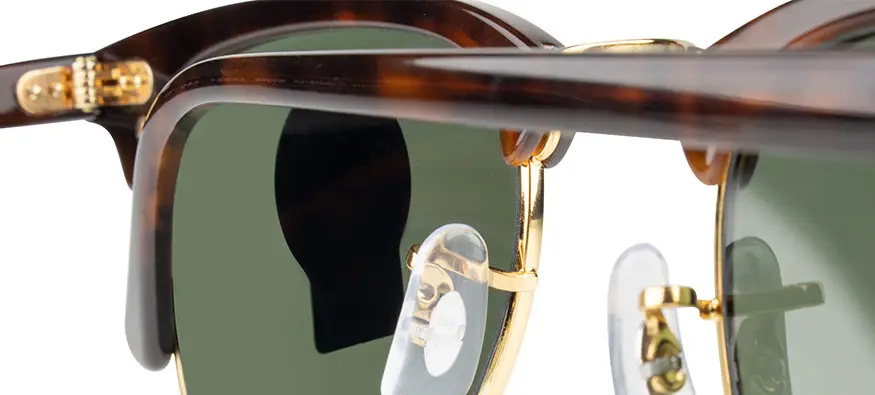 How to spot fake Ray-Ban sunglasses?
Original Ray-Ban sunglasses will have "RB" or "Ray Ban etched onto the corner of the left lens to prove its authenticity. If the etching is missing, or a low quality or painted on the glasses will be fake.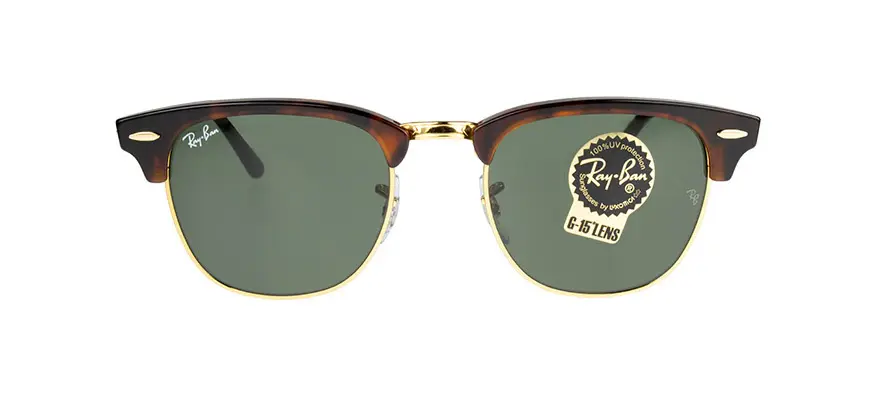 Other signs to spot a fake pair of Ray-Bans include the packaging and way in which they are boxed to ship. The information on the label should correspond with the sunglasses and they should come boxed with a large white shipping label. Authentic Ray-Bans will come with a small booklet, printed flawlessly on top-quality paper, fake Ray-Bans will not.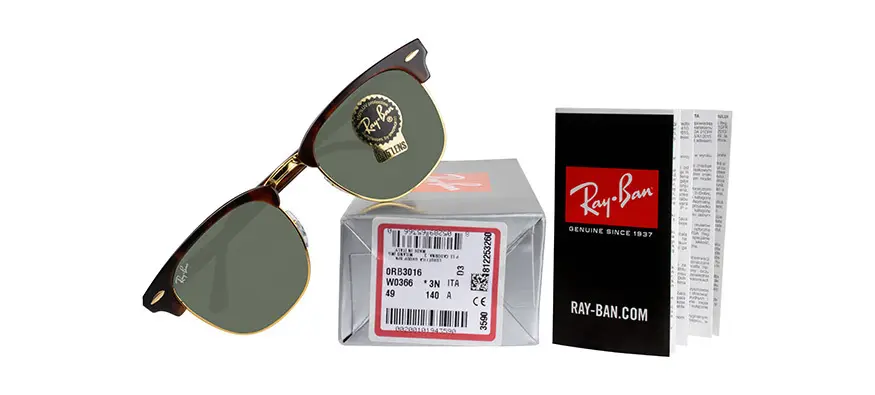 Do Ray-Bans come with a case?
Real Ray-Ban sunglasses will come with an official Ray-Ban case to ensure that they are protected. Whilst different designs feature different cases, most will be protected in a black or brown leather case. The stud on the case will feature the Ray-Ban logo, a detail which is often missing on fakes. Real Ray-Bans also feature a branded cleaning cloth with the case.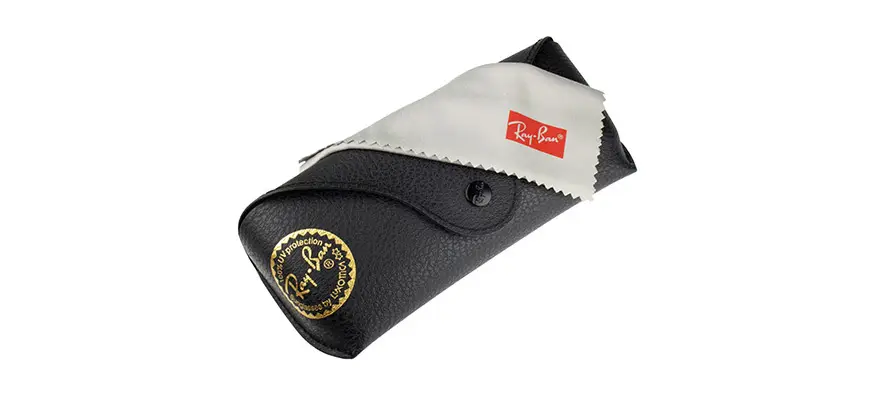 Check Ray-Ban serial number
The model number on a pair of genuine Ray-Ban sunglasses will be found inside the left temple arm of the sunglasses. It will start with RB and be clearly etched and properly centred and aligned with the arm.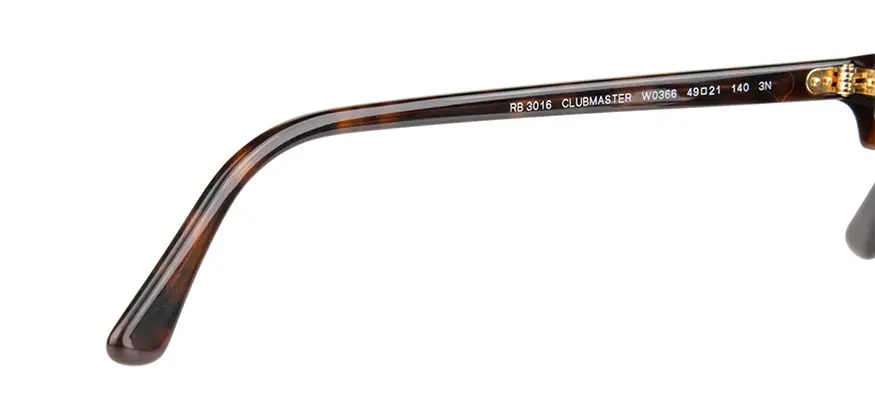 The same should apply for the right arm which will state "Made in Italy" and include a CE or UKCA mark.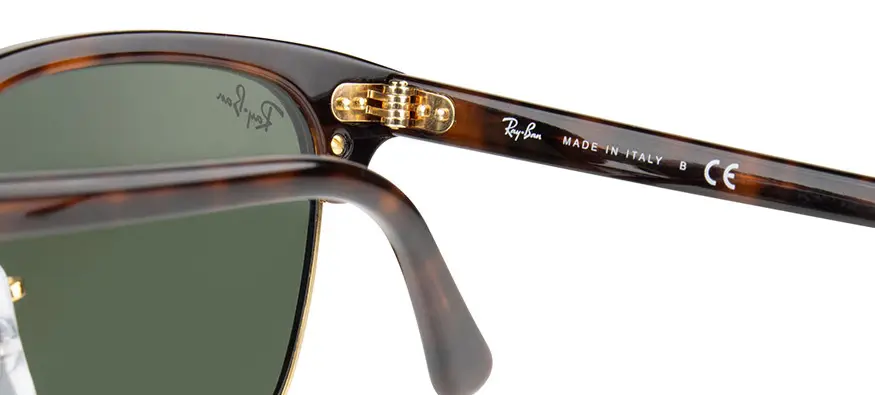 Asides from proving authenticity, the CE mark also ensures that the sunglasses can provide adequate UV protection. It is important to note that fake Ray-Bans will not offer any UV protection, which can cause serious eye damage.

The serial and manufacturing numbers should be the same as the ones on the packaging. If this is not the case, then the Ray-Ban glasses will more than likely be fake.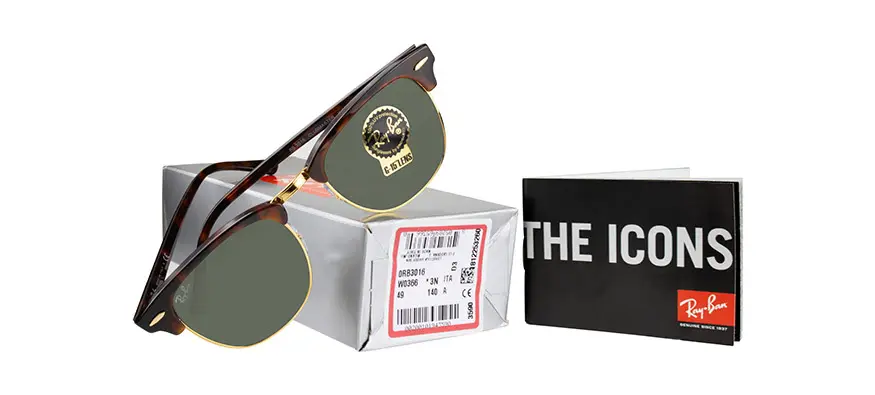 The only exception to not having this feature and being genuine are on models such as the Aviator which feature thin arms.
Where to buy Ray-Bans?
Be careful about where you buy your Ray-ban sunglasses. You should only purchase Ray Bans from a registered dealer who is licensed to sell original Ray-Ban's. At Feel Good Contacts, you can be sure that you are purchasing real, authentic Ray-Ban sunglasses.

Be it Ray-Ban glasses, or sunglasses, you can save up to 40% on your favourite pair! We are an official distributor of this legendary brand, so, you don't need to worry about your glasses or sunglasses being fake. Select your suitable frame and try them on virtually before making your purchase.
Why are Ray-Ban sunglasses so expensive?
The quality of Ray-Ban's is reflected in the price, which some may find rather expensive. For this reason, you may be tempted to purchase fake Ray-Bans due to their lower prices. Be warned however, if the price is too good to be true then you'll be sure to find that it is.

A lower price will be reflected in a lower quality product made from poorer materials. Whilst real Ray-Ban sunglasses aren't cheap, they'll be sure to last you and protect you against harmful UV rays. They are also a timeless fashion piece which you will be able to wear for years to come. If taken care of properly, a genuine pair of Ray-Ban's will never go out of style.