Price
You'll be able to tell if a pair of Oakley sunglasses are real or fake simply by checking the price. If it seems too good to be true, it probably is.

When purchasing Oakley from a brick-and-mortar shop, the prices range from £100 - £350. However, you'll can purchase authentic Oakley sunglasses online at Feel Good Contacts for as little as £55-£150. As an online retailer, we have one of the largest accounts with Oakley and all of our products come directly from the manufacturer, which is why we can offer these low prices to our customers.
Finish
Oakley sunglasses use O'Matter material for the frames. O'Matter is lightweight and extremely flexible. This pre-dyed plastic (nylon) ensures that the frame is the same material throughout, along any edges or hinges. Therefore, if you were to snap your plastic frames in half, the inner colour would be the same as the outer colour.

Fake Oakley's may appear a different colour on the inside of the hinges. They usually have the colour painted on them and this chips and flakes easily. You may also find the lenses on fake Oakley's to be loose and hinges to be flimsy.
Certificate of authenticity
Oakley authentic sunglasses come with a certificate of authenticity. While some of the fake frames come with a certificate and a warranty card, the mailing address on the card will be different to that displayed on the authentic card.
Packaging
When purchasing new Oakley's they should come packaged in a cardboard box with correct imagery and branding. You can check these against those used officially by Oakley. The box should also feature the production details including manufacturer information, barcodes, model name, colour code frame and lens description. The sunglasses inside the box should match up with the details on the box.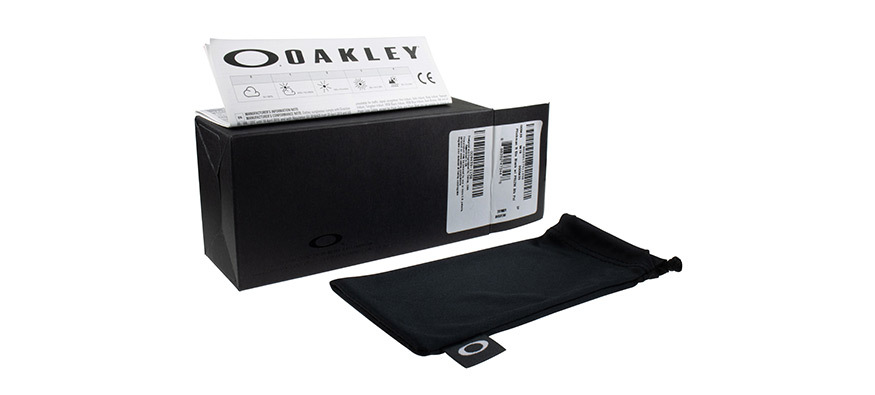 Genuine Oakley's come in a microfibre pouch which normally includes an Oakley logo on the side or a high-quality hard case. If the case or pouch looks cheap, this could be an indicator that you have yourself a pair of counterfeit Oakley sunglasses.
SKU (stock keeping unit)
The SKU on real genuine Oakley's is featured on the inside of the temple arm and starts with OO. The OO is followed by a four-digit number which identifies the frame model. This is followed by a dash and more numbers to indicate the colourway and size, for example, 54o20 133. Sometimes the name of the model can be found on the inside of the temple too and the size can sometimes be found inside the nose bridge. If you type the entire SKU into Google, you can check its authenticity.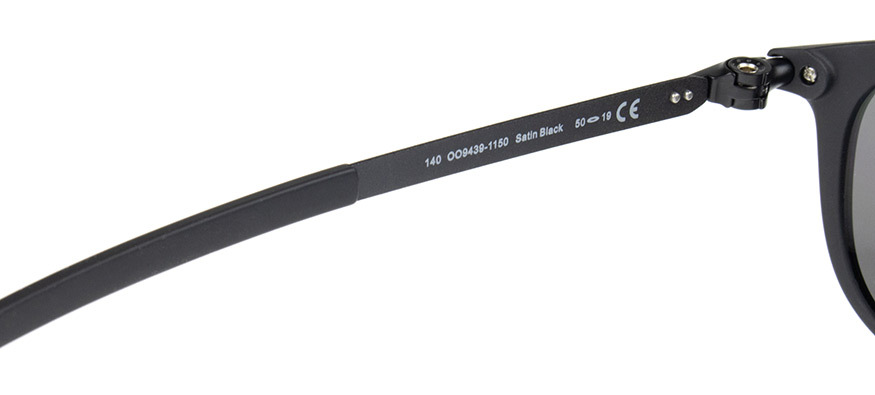 Nevertheless, some knockoffs are featuring real Oakley SKUs, however, you'll notice that the authentic SKUs don't match up with the model they are printed on. On wire models, you may find the SKU printed underneath an ear sock.
Barcode
Another way to check the authenticity of a pair of Oakley's is by typing in the barcode into Google. The barcode is featured on the outside of the box and is 13 digits long.
Lens etchings
Oakley prescription sunglasses will come with the Oakley O etching on the lens by laser. However, non-prescription Oakley sunglasses with the 'O' etched on the lens are fake. Authentic Oakley PRIZM sunglasses will either feature 'PRIZM', 'POLARIZED', or 'PRIZM P' etched onto the lens. Non-PRIZM Oakley sunglasses will have no etchings on the lens.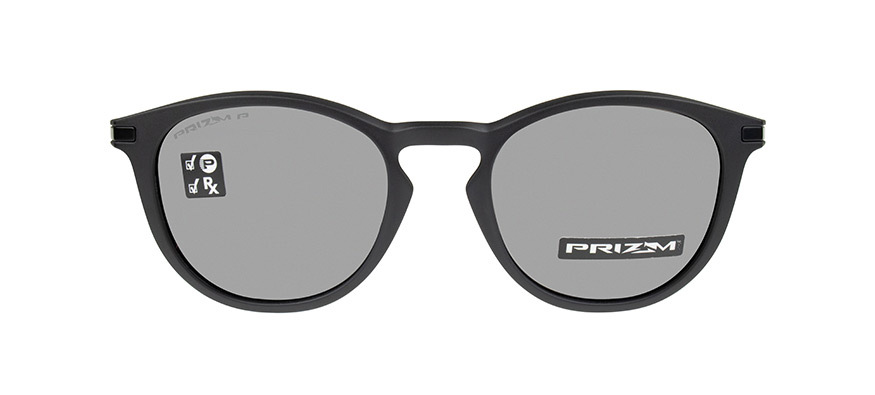 Stickers
The stickers on fake Oakley sunglasses will leave a tacky residue. You'll sometimes find a 'P' sticker on the lenses of fakes; this does not indicate a polarised lens. Some of these stickers are even made to look like authentic etchings; however, if you run your finger over them, you'll be able to tell that this is not the case.

Some of the more recent authentic Oakley sunglasses will also have static cling-type P stickers on the lenses stating that the lenses are polarised or Prizm but stickers with adhesives possibly leaving residue will never be present.
Lens clarity
A real pair of Oakley's will feature high-definition optics (HDO) that will give you the most accurate view of your surroundings without any blurriness or distortion.

Oakley's lens material is called Plutonite which is designed and manufactured exclusively for Oakley. It is made from the purest form of optical polycarbonate.
Logo placement
Many counterfeit Oakley's feature the Oakley logo on the frames without paying attention to where they are placing the logo. This is particularly common over the nose bridge. Make sure you pay attention to the sunglasses on the Oakley site and compare the logo placement to sunglasses sold by other retailers. 'Holbrooks' and 'Frogskins' are popular fakes and will often feature a misplaced logo.

Authentic Oakley's feature the logo on the arm/temple as a raised O which is embedded into the frame.
Raised Seams
Fake Oakley's may have raised lines along the frames from the moulding process. Real high-quality Oakley's feature a seam that is ever so subtle. You may be able to see it ever so slightly but when you run your finger along it, you won't be able to feel it.
Spelling
Knockoff Oakley sunglasses often feature the incorrect spelling of the brand name. Common misspellings include 'Oakly', Oakely', 'Oakey', 'Foakley' and 'Fokley'.
Ear socks
The ear socks on a fake pair of Oakley's are often thinner and will slide off easily due to being made from a cheap plastic/rubber. You'll also find that misaligned parts of fake Oakley's cause a gap between the frame and the ear socks.
Rubber pieces
Some Oakley styles feature rubber on the nosepiece or on the arms/temples. If your pair comes with the rubber pieces, they should feel soft and spongy for comfort.

Fake Oakley's of these styles may have the rubber missing or be of poor quality (usually harder and maybe shiny like hard plastic).
Size
Fake Oakley's are often smaller than genuine Oakley sunglasses, so make sure you pay attention to size before purchasing your Oakley sunglasses.
Do all Oakleys have a serial number?
Yes, all Oakley sunglasses have a serial number on the inner temple. The serial number should have 7 numbers or letters. Fake pairs usually feature a 3-digit number on the temple tips or temple.
CE marking
All sunglasses sold within the UK and EU must have a CE marking inside the temple meaning that they conform to any applicable health, safety, and environmental regulations with the European Union and UK. Fake Oakley sunglasses will not have the CE mark.
Do real Oakleys say Made in China?
While real deal Oakley glasses used to say 'Made in the USA', it is possible that some models might now say made in China. This is because the company was bought by Luxottica in 2007 and since then, the manufacturing of some products moved to different factories around the world including China.
Summary
As you can see, there are numerous ways to check whether your Oakley sunglasses are authentic or not. You should always make sure you are purchasing from a reputable retailer when buying designer sunglasses.

At Feel Good Contacts all our sunglasses are genuine branded, sourced from official manufacturers and come with a 12-month warranty; so, you can be sure that you're not buying fakes when you shop with us.

Want to check the authenticity of your Ray-Ban sunglasses? Take a look at our article 'How to spot fake Ray-Bans'. If you have any further questions or need advice, you can Whatsapp us on +44 7810 004 929, call us free on 0800 458 2090 or email us at cs@feelgoodcontacts.com.