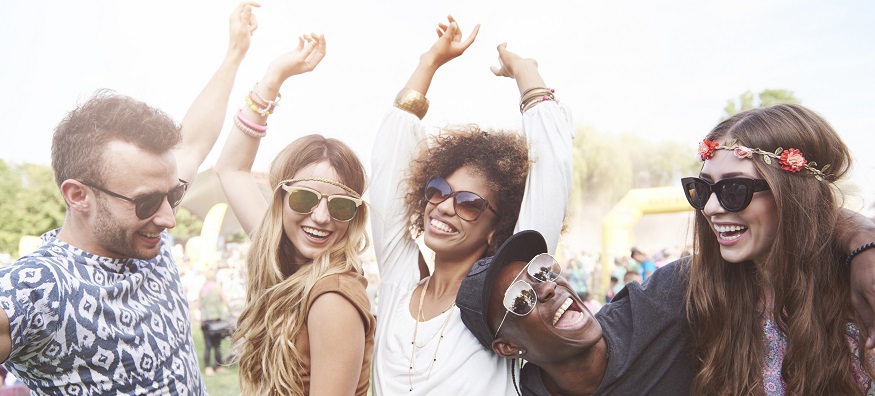 Taking care of contact lenses can be a chore when you're away, especially when you're at a festival. Have a read of our helpful tips on how to look after your lenses and make sure that nothing stops you from seeing your favourite acts.
Switch to dailies
Daily disposable contact lenses are a great choice for festival goers because they require the least amount of effort. You can wear these lenses all day while you enjoy the music and socialise with friends, then simply dispose of the lenses at the end of the day before you go to sleep.

We stock an extensive range of daily disposables, and with our Price Match promise we guarantee you'll find the cheapest price with us.
Buy travel-sized solution
If you use monthly or two weekly contact lens wearer, we recommend buying a travel pack of contact lens solution. Travel-sized solution will make your trip easier because the 100ml bottles are more lightweight and ideal for having in your hand luggage (as they meet airport restrictions on liquids).

Not only is this a more compact option for travel, these smaller bottles of solution also come with a handy contact lens case.
Bring spare lenses
It's always a good idea to carry extra pairs of lenses with you. When you're out and about, especially in crowded and busy environments like a festival, you're more likely to get irritated eyes, you might also break one of your lenses or even lose a pair. If you pack more lenses than you need for the trip, you'll always be prepared.

If you're embracing festival looks with different sets of coloured contact lenses, you should buy an additional contact lens cases to store them in, unless of course they are daily coloured lenses, which can be thrown away after a full day's wear.
ALWAYS wash your hands
Good hygiene is essential at a festival, it can be tricky when water taps are in short supply, but it is achievable. A small bottle of anti-bacterial hand gel is useful or even some wet wipes to clean yourself but also your tent or any spillages.

It's important to always wash and dry your hands before you insert and remove your contact lenses, otherwise you could be putting your eye health at risk of eye infections. If you really can't get to a sink, use antibacterial gel and make sure all traces of the gel has disappeared before you insert or remove your lenses, or you may experience some discomfort and stinging. If they are reusable lenses it would be a good idea to dispose of them once the festival has finished to reduce the risk in infection.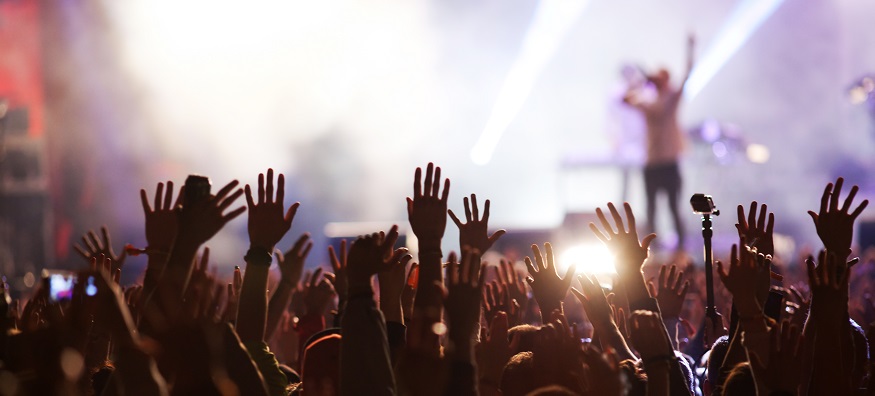 Handle your lenses in the comfort of your own tent
Public toilets at festivals are notoriously unsanitary and are also typically quite far from the campsite, not the ideal environment to use for putting in contact lenses. We suggest handling your contact lenses in the comfort of your own tent.

Provided you keep it clean, your tent is more than good enough in terms of hygiene to apply and remove your lenses. You can even bring a small mirror to help with applying and removing them.
Take rewetting drops with you
Warm environments can cause your lenses to dry out, which can lead to dry and irritated eyes. For this reason, it's very important to rehydrate eyes to keep your vision sharp and eyes healthy.

Biotrue Rewetting Drops work to instantly re-moisturise your eyes and can even be used whilst wearing contact lenses. On top of this, they're available in a convenient 10ml bottle, making it perfect for travel.
Use eyelid wipes
As you won't have the comforts of your own home around you, it's safer to come prepared. Eyelid wipes are an effective way to remove make-up and dirt, maintaining your ocular hygiene. They'll also work to soothe your eyes from any dryness and keep them refreshed. Each wipe is pre-moistened and sealed in an airtight sachet. These handy wipes are small enough to carry in your pocket, which means they won't take up much room in your luggage.
Drink plenty of water
You should be drinking plenty of water every day, but especially on hot days out or at events when you're more likely to be running about. Keeping hydrated is difficult while you're having fun in the sun, so keep a water bottle with you all the time to remind yourself to drink more water. It's useful to have a bottle that keeps drinks cold for many hours, as drinks can quickly become warm on hot days.

Some water bottles even have karabiner clips attached to the lid, allowing you to clip the bottle to backpacks, belt loops and other such things. If you're generally well-hydrated, your eyes will be hydrated too, making it less likely that your eyes will become dry or irritated.
Fight hay fever
Hay fever can be troublesome, particularly if you're camping in the middle of a field for a few days. The pollen count is higher than ever this year and if you suffer from seasonal allergies, be sure to browse our selection of eye drops. Some eye drops can help to relieve symptoms like itchy eyes when you suffer from hay fever, so take a small bottle of drops with you.
Stay safe in the sun
While there are some contact lenses which offer UV filters, you'll find sunglasses provide the best protection against harmful UV rays. Feel Good Contacts stock a wide range of stylish designer sunglasses that offer 100% UV protection. If you want a great multi-purpose product, choose the sun tint lens option at checkout, this will turn your selected pair of glasses into prescription sunglasses. For an even more convenient option, you can buy transitions lenses – these self-tinting lenses remain clear while you're inside but darken when exposed to the sun.

Stay safe and stylish in the sun with our impressive range, including wrap-around frames that offer full coverage.

If you or anyone you know is off to a festival this summer, we hope you use our helpful tips as a checklist for looking after your lenses and keeping your eyes safe.